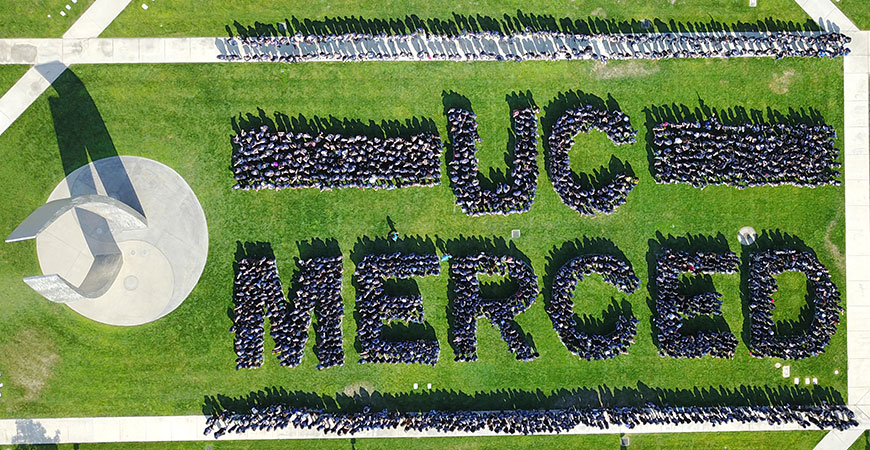 For the first time, UC Merced faculty members from each of the campus's three schools have been chosen as principal investigators on some of the 21 exciting new projects that are being funded through UC's Multicampus Research Programs and Initiatives (MRPI).
In addition, UC Merced researchers are collaborating on 10 of the other projects.
"Our faculty researchers are leading the world in the discovery and creation of knowledge," Chancellor Juan Sánchez Muñoz said. "It is particularly noteworthy that their expertise is being recognized in the pursuit of research responses to regional challenges."
The UC announced today that psychology Professor Anna Epperson from the School of Social Sciences, Humanities and Arts, physics Professor David Strubbe with the School of Natural Sciences and School of Engineering Professor Elizabeth Nowadnick, a materials scientist, are each leading multicampus research projects in their fields of expertise.
"MRPI grants are highly competitive," Vice Chancellor for Research, Innovation and Economic Development Gillian Wilson said. "Congratulations to our all of our awardees. Their success is testament to UC Merced's strength across disciplines."
Awarded every two years, the MRPI grants leverage the renowned research capabilities of the UC system to develop real-world solutions to significant problems facing California and the world. To be eligible, applications must draw on multidisciplinary academic expertise from at least three campuses. This year, 96 applications were received. Since 2009, the University has made over 120 MRPI grants totaling over $155 million and involving more than 730 UC faculty members. More than a quarter of that funding has been devoted to projects related to climate.
"The MRPI grant program fuels discoveries in areas that are critical to the lives of Californians and the future of the state," said Theresa Maldonado, Ph.D., UC's vice president for Research & Innovation. "By drawing on the expertise of researchers from diverse disciplines and campuses, the MRPI program taps into UC's collective strength to help California find solutions to its most pressing needs."
Many of the projects funded this year bring into sharp focus the overlap between climate change and health equity and prioritize research projects designed to benefit vulnerable or historically marginalized communities.
For instance, Epperson's project received $738,000 to delve into social network information flows for COVID-19 vaccinations among Indigenous people in California.
Despite the potentially critical role of social networks, little research has examined social network composition in relation to Indigenous health decision-making, and none in the context of COVID-19 vaccination. Epperson and collaborators at UCs Santa Cruz and San Francisco will work with the Indigenous community to understand how variation in social network characteristics is associated with COVID-19 vaccine-related knowledge, attitudes and behaviors; design and test a health communication intervention aimed at increasing vaccination; share resources on Indigenous health behavior research; and provide health disparities training to students and community members.
Other projects UC Merced researchers are involved in include a UC Davis-led effort to help alleviate air pollution hot spots in low-income neighborhoods, a UC Irvine-led project in which researchers and students will collaborate with two equity-focused community partners in Merced and Riverside counties to carry out community-engaged research projects promoting local policy change and improving regional health, and the
UC-Dust, a new initiative led by UC San Diego to assess dust storm activity in the state and how it might change in the future, then share the findings with state policymakers and community groups to develop strategies for mitigation and adaptation to what climatologists call a "looming dust storm crisis."
The Quests for Sustainability
Strubbe's $1.3 million project ties in with the recent announcement that for the first time, scientists were able to produce nuclear fusion that put out more energy than it consumed.
Through his MRPI-funded California Initiative for Solid-to-Plasma Dynamics for Fusion Energy, Strubbe and collaborators at UCs Berkeley, Irvine and San Diego and from the Lawrence Berkeley and Lawrence Livermore national labs will work to better understand the first stages of the fusion process, in which a solid at ordinary temperature and pressure absorbs laser light and transitions into a plasma, reaching conditions similar to the center of the Sun.
The findings will improve the fundamental understanding of laser-matter interactions, help develop innovative ways to measure plasma conditions and develop critical simulation capabilities through better physics and machine-learning models, helping move forward the quest for controlled fusion, possibly the next big thing in sustainable energy.
Nowadnick's project aims to address the growing energy consumption of information technology, which would have significant implications for U.S. energy consumption in the near-term.
Working with colleagues at UCs Berkeley and Davis, she will investigate a family of ferroelectric oxide materials that hold promise for enabling energy-efficient electronics, that have ultrafast polarization switching speeds and can readily integrate with existing silicon-based platforms.
Several other MRPI grants focus on challenges related to natural resource management, including one led by UC Berkeley, with collaborators at UC Merced, to couple state-of-the-art computing and locally sourced knowledge to develop new approaches for managing sea level rise and increased salinity in the San Francisco Bay Delta.
Quantum Information, Health Equity
Other projects involving UC Merced researchers include:
A network of scholars across UC campuses focused on strengthening slavery studies at UC and expanding a database that documents human trafficking voyages;

A health equity effort to produce policy-relevant products and scientific articles to advance the translation of research evidence into policy; and

An interdisciplinary alliance of Northern California UC campuses to explore quantum phenomena that transcend experimental platforms.
More news about these projects will be published on UC Merced's Newsroom.
Find the complete list of MRPI awards for 2023-24 online.