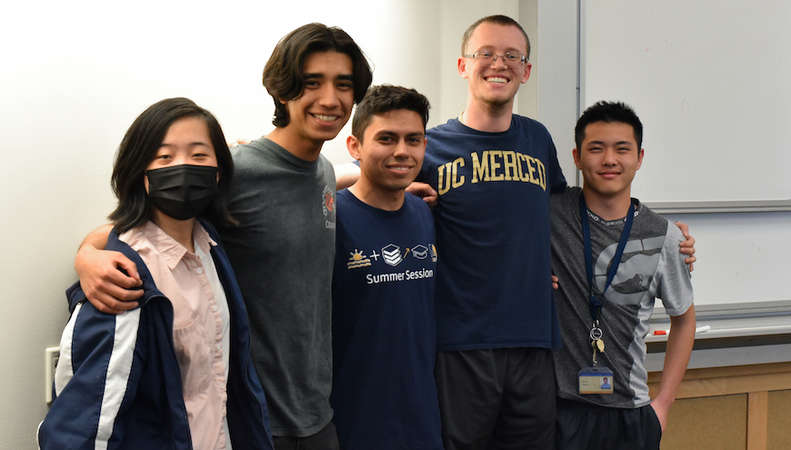 Teams of students from throughout California converged on UC Merced the weekend of April 21-23 to spend 48 hours tackling issues surrounding a precious resource: water.
The Water Hack Challenge, hosted by the USDA-funded Secure Water Future led by Professor Joshua Viers, featured teams competing by using data to work on projects centered on one of three areas: liquid (flood risk), solid (snowpack measurements) and gas (evapotranspiration). Organizers described the event as a "weekend-long innovative space for students to explore data-driven solutions to water issues."
According to the Water Hack Challenge agenda, the hacks are aimed at helping the state of California better manage its water by better balancing supply and demand through data-driven decision-making.
"Innovative solutions to water measurement and management are key to a sustainable future in California," the agenda read.
A team of five UC Merced students, called EvapoInspiration, came away the winners of a $2,500 award donated by the California Institute for Water Resources. Secure Water Future Managing Director Sarah Naumes said the students, Yulin Lin, Luis Fujarte, Carolyn Cui, Joshua Tapia and Ryan Milstrey, created a machine learning model that predicts crop class. They also created a website that maps those predictions to their respective fields.
Other prizes included monetary awards, clothing and tickets to watch the Fresno Grizzlies play baseball. But the prizes weren't the only goal, organizers said. By the end of the weekend, participants had a better understanding of water resources in the region, how to communicate scientific data, and how water and data intersect.
"Secure Water Future moves beyond disciplinary silos," said Naumes. "These students experienced the value of interdisciplinary team science."
Participating students came from UC Merced, Merced College, Stanislaus State, Fresno State, Sacramento State, and elsewhere. The event was sponsored by the University of California Agriculture and Natural Resources, California Institute for Water Resources, Turlock Irrigation District, Major League Hacking, the Fresno Grizzlies and BlessUp Clothing.