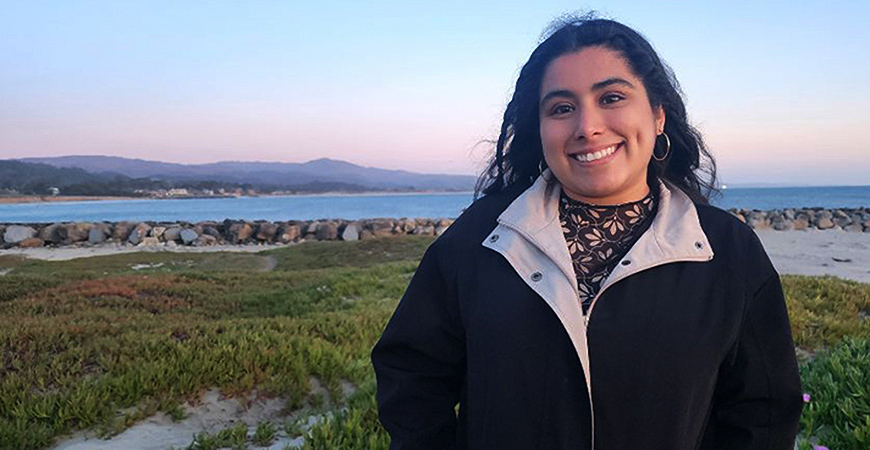 UC Merced students Brianna Aguilar-Solis, Diane-Marie Brache-Smith, Sierra Lema and Sarif Morningstar, and alumni Diana Cruz Garcia and Anna Maria Calderon were awarded fellowships from the National Science Foundation (NSF) Graduate Research Fellowship Program (GRFP).
The five-year fellowship provides three years of financial support inclusive of an annual stipend of $37,000, as well as access to opportunities for professional development.
Cruz Garcia, who earned her bachelor's degree in bioengineering from UC Merced, is pursuing a Ph.D. at UC Berkeley, and Calderon, who received her bachelor's degree in life sciences, is pursuing graduate studies at Pennsylvania State University.
Aguilar-Solis, who is from Bakersfield, received her bachelor's degree in chemistry from UC Berkeley and is pursuing her Ph.D. in UC Merced's Chemistry and Biochemistry Graduate Group.
Jointly advised by professors Aurora Pribram-Jones and Hrant Hratchian, her research is focused on developing a new model that improves complicated, excited state calculations.
"Receiving this fellowship means that I'll have more control over the research projects I take on and can ensure that they will be in line with my own research interests to develop theoretical and computational methods for excited state chemistry," Aguilar-Solis said. "I'll also be able to take advantage of more pedagogical opportunities, attend more conferences and workshops, and be connected to a new network of fellow recipients. This will help me get the most out of my Ph.D. journey and prepare me for my long-term career goal of becoming a chemistry professor."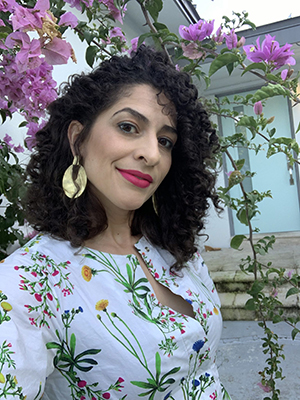 Brache-Smith, who is from Miami, received a bachelor's degree in biology from Miami Dade College and is pursuing her Ph.D. in the Quantitative and Systems Biology Graduate Group with Professor Maggie Sogin.
Her project's focus is to determine if seagrass-associated microorganisms can be leveraged to stimulate seagrass growth. The primary goal of her Ph.D. is to explore the feasibility of developing beneficial microbial consortia to use as a probiotic biofertilizer to promote seagrass growth.
Brache-Smith said the fellowship validates her expertise in the field of marine microbiology.
"Receiving this award as a first-generation college graduate, Latina and mother is particularly impactful," she said. "This award demonstrates that I am capable of creating a plan to fill a research gap and communicating it effectively.
"As an NSF GRFP recipient, I hope to inspire and motivate others from underrepresented groups to pursue their own goals and aspirations."
Lema, who is from Hayward, received her bachelor's degree in environmental engineering at UC Merced this May. She was involved in two research groups with professors Marie-Odile Fortier and Erin Hestir. She investigated how direct land use and albedo change contribute to the life cycle environmental impacts of electricity generated from coal in the U.S.; identified the interrelated factors that could affect the efficacy of the climate engineering approach of ocean iron fertilization; used remote sensing to identify watersheds with wildfire-related sediment and carbon discharges to kelp forests in California coastal waters; and computationally modeled the impacts of wildfires on watershed hydrology.
Lema is continuing to build a research career with broader impacts to environmental protection and climate change mitigation by pursuing a Ph.D. in civil and environmental engineering at the University of Nevada, Las Vegas.
While at UC Merced, Morningstar performed research with the Undergraduate Research Opportunity Center's Learning Aligned Employment Program (LAEP). In May, they received a bachelor's degree in biological sciences with an emphasis in evolution and ecology. The Sacramento native will be attending UC Davis in the fall to pursue a Ph.D. in plant biology.
"Receiving the National Science Foundation Graduate Research Fellowship is one of the highest honors an incoming graduate student can get," Morningstar said. "To me, it is not only a validation of my struggle for success as a first-generation scholar, but also an intimate acknowledgment of my passion for science."