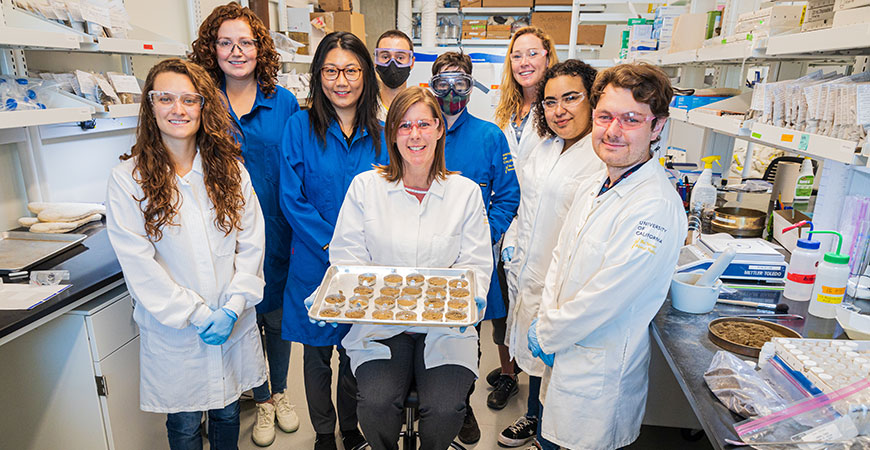 Professor Rebecca Ryals has made campus history by being named UC Merced's inaugural Presidential Chair in Climate Change. The appointment was recommended by her peers and Dean Betsy Dumont from the School of Natural Sciences in recognition of Ryals' outstanding research, teaching and service.
The chair is one of two being established by a $1 million gift to the university in support of science, technology, engineering and math (STEM) professorships for research focused on climate change. Additionally, funding provided through the University of California Office of the President's Presidential Matching Chair initiative will double the impact of the philanthropic contribution.
The anonymous donor specifically requested that the two chairs encourage diversity, especially gender diversity.
"It was an honor and a privilege to support Professor Ryals' appointment as an inaugural Presidential Chair in Climate Change. Her community-oriented work on carbon storage and reducing greenhouse gases is truly multidisciplinary, inclusive and rooted in the principles of environmental justice," Dumont said. "Professor Ryals' innovative and very successful research program will benefit farming communities in the Central Valley and, indeed, across the globe."
Ryals, with the Department of Life and Environmental Sciences, is an agroecologist who addresses questions of ecosystem-based solutions to climate change and sustainable food production. She studies the role of soil organic amendments, such as compost and biochar, to alter ecosystem carbon storage and life cycle greenhouse gas emissions. Ryals also examines the climate and agroecological impacts of circular ecological-based sanitation systems, novel manure management systems and diversified farming systems.
Agriculture contributes to climate change in many ways, but it is also an essential and underutilized climate solution, Ryals said. Practices that build soil carbon, reduce dependency on chemical fertilizers and reduce waste help mitigate climate change and foster resiliency. Her research is motivated by the need to better understand these agricultural-based climate solutions.
"UC Merced is an amazing place to do impactful climate change research. We are in the heart of agriculture, and we see and feel the impacts of a changing climate — degraded soils, depleted groundwater, air pollution and all sorts of other problems," Ryals said. "But we also have the opportunity to be a model for a more just and climate resilient future. Working at this intersection of agriculture and climate change here and considering the lived experience of our students, has really changed our motivation for doing this work."
Both in Haiti and in the Central Valley, Ryals has been studying organics recycling, specifically, the capture, transformation and reuse of human waste as an agricultural additive.
Her studies have shown that not only does composting human waste increase soil carbon storage and reduce greenhouse gas emissions, it also leads to greater crop yields and soils' water retention.
In Haiti, where few people have sanitary sewage systems, the practice has also shown benefits for increasing public health and preventing human waste from running into the ocean and has led to increased employment opportunities as new companies emerge to take on the challenge of composting waste from around the country.
Each year of the five-year life of the endowed chair, Ryals will get the return on the $1 million endowment and can use that money to expand the work she's already been doing, fund new research projects and support graduate and undergraduate students.
Ryals has also been working with the city of Dublin to test the use of compost on athletic fields and in parks for soil carbon storage and water retention, and her lab is working with local dairy farmers and almond growers.
"This new funding will help us look at stacked practices," Ryals said. "There are many things we can do to improve soil health and help the climate, and farmers are experimentalists. They usually try many things at once, such as composting, cover-cropping and grazing, so by partnering with farmers we can look deeper into how those practices work in tandem."
Although composting is climate beneficial, the composting process is a source of air pollution, she said. She and her lab have recently been studying reducing methane emissions from dairy manure composting by adding a small amount of biochar. Their studies have shown that the addition of even a small amount of biochar reduces compost methane emissions by more than 80%.
Ryals joined UC Merced in 2018. She graduated from Duke University with her master's, earned her Ph.D. at UC Berkeley and was a Voss Interdisciplinary Postdoctoral Fellow at Brown University and the Marine Biological Laboratory. She is afilliated with the Sierra Nevada Research Institute.
She said this endowed chair is both an honor and a surprise.
"Honestly, there are so many amazing researchers at UC Merced working in climate change, I was very surprised and happy when I got the acceptance letter," she said. "It's a privilege."