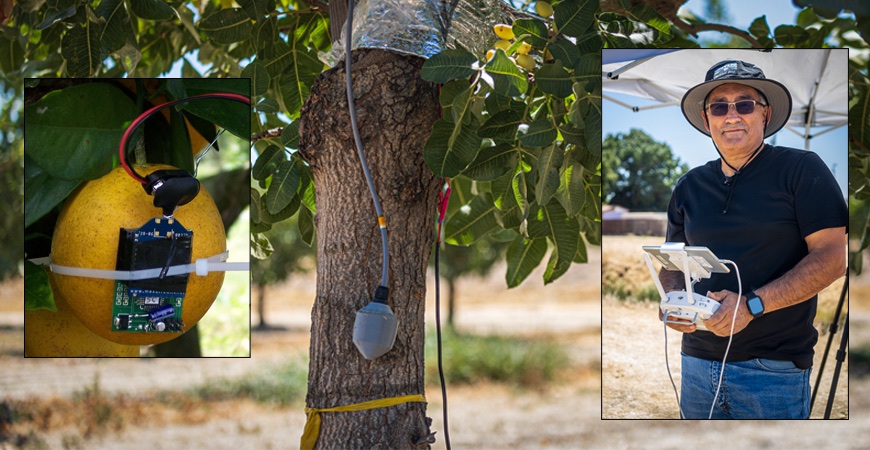 As agriculture, California's most important industry, becomes increasingly technical, the workforce needed to sustain it will have to have different skills than those of a generation ago.
A UC Merced researcher has been awarded a grant aimed at sparking interest and knowledge among disadvantaged young students who could grow up to take those jobs as the current workforce ages out.
Mechanical engineering Professor Reza Ehsani leads a team awarded a $999,983 grant from the United States Department of Agriculture (USDA-HSI program) to fund "Integrated Education Programs to Train Students for a Future in the Agricultural and Food Industry."
The program will be developed at two sites: UC Merced and West Hills College in Coalinga (WHCC). Professors Yang Quan Chen, Jian-Qiao Sun and Leili Afsah-Hejri from UC Merced and Terry Brase from WHCC are other co-PIs on this project. It's expected to include 585 Central Valley students, ranging from elementary to graduate level. Students at UC Merced and West Hills will put together project-based kits that will offer hands-on learning of science, technology, engineering and math related to food and agriculture (AgSTEM).
The material will be designed to be easy to learn while covering highly technical topics, such as advanced soil and plant sensors, robotics and artificial intelligence systems.
According to a press release from the USDA, students will have the opportunity to attend day camps at both campuses.
"This will allow students the UC Merced or WHCC courses to be a part of the day camps as camp teaching assistants, and provide them the opportunity to share their interest in the agriculture and food industry with their juniors in the hope it will spread enthusiasm for careers in the field," the USDA said in announcing the grant.
The camps at HCC will be aimed at eighth-grade through high school students; the UC Merced day camps will be open to high school and community college students.
"Students will be given opportunities to apply new technologies, including robotics, sensor technologies, 3D Design and Prototypes, precision agriculture, and post-harvest preservation to solve agricultural problems," Ehsani said.
"Using the AgSTEM kits for these camps provides hands-on activities that duplicate actual tasks that technicians and engineers complete on a regular basis, giving students an authentic career exploration," the USDA release said. "This will help funnel genuinely interested students into a variety of agricultural pathways, which will improve retention and completion rates as additive results."
The program offers several innovations: authentic career exploration for the participating students, collaboration between a community college and research university to develop the kits, and interactions with younger students who will get both STEM knowledge and career exploration.
Outside of the 585 students involved in developing the kits and taking part in the initial day camps, the program can be replicated elsewhere to provide opportunities nationwide. The learning modules will be made available online for other colleges to use, as well.
"For the expensive and sophisticated equipment that is not available in other institutions, an internet-assisted lab experiment and instructional video will be created to provide a remote lab teaching experience for the students," the USDA said.