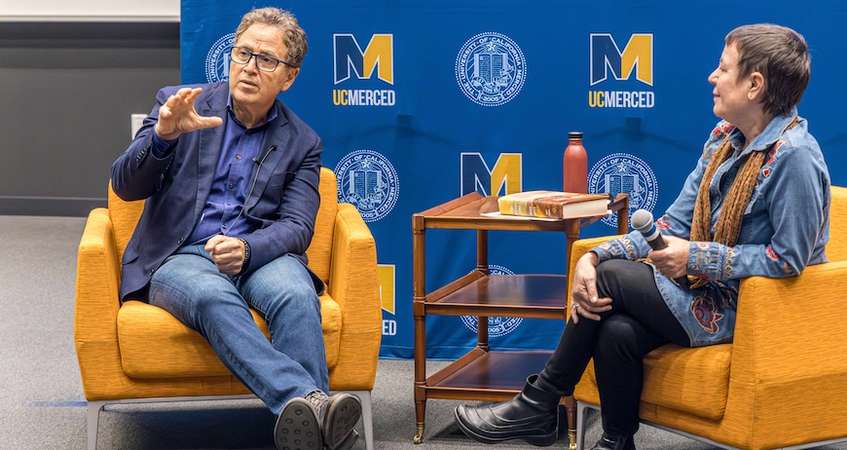 Water is the most valuable resource in the world. And it's a particularly important commodity in the Central Valley, historically a desert but also home to some of the richest agricultural soil on Earth.
The UC Merced Library and Secure Water Future co-hosted an event to discuss water policy in California, its history and what the future might look like.
Guest speaker Mark Arax, author of "The Dreamt Land: Chasing Water and Dust Across California," painted a bleak picture. However the other speaker, Ellen Hanak, vice president and director of the Public Policy Institute of California (PPIC) Water Policy Center and a senior fellow at the PPIC, was a little more optimistic about the future of water and agriculture.
"We have grown agriculture beyond something that is sustainable," Arax said. There are 1.6 million acres of almond orchards, he said, and their product is leaving the state.
"It used to be that 75 percent of the nuts we grew were consumed by Americans," he said. "Now 75 percent is consumed worldwide. We're exporting our water."
Arax said even developments intended to help reduce water usage, such as drip irrigation, only served to expand agriculture's footprint. With drip irrigation, farmers could plant on hilly ground not typically hospitable to crops, delivering the exact amounts of water and chemicals where needed.
"We still have this Gold Rush mentality where it's extraction, extraction, extraction," he said. "How much extraction can we have when the climate is (warming)?"
Hanak countered that there is a growing realization of the need to conserve water, and recent legislation recognizes that.
"Anytime you have very rapid growth you're going to get to a place where you're going to have to start to put on the brakes," she said. "We are doing kind of amazing things with groundwater recharge in California."
She pointed to the passage of the Sustainable Groundwater Management Act, signed by then-Gov. Jerry Brown in 2014. The Act is a three-bill legislative package that requires local agencies to form groundwater sustainability groups and develop and implement groundwater sustainability plans to avoid undesirable results and mitigate overdraft within 20 years, according to the California Department of Water Resources.
"The arrival of the Sustainable Groundwater Management Act, as painful as it is, is helping nudge people toward being creative in ways that could go toward sustainability," Hanak said.
UC Merced's researchers are involved in finding those creative ways. The university's Experimental Smart Farm is aimed at developing more sustainable strategies for everything from watering to pest control.
Another lab is working on methane research, and finding ways to reduce and mitigate emissions. Arax's solution is to shut down mega-dairies and move cows to other states, where they'd be "happier." Hanak replied that doesn't change the emissions problem, it only moves it.
Both agreed that the popularity of nut growing in California, which has exploded in recent years, may be waning.
"Now the almonds are collapsing," Arax said. "And the pistachio boom boom gung-ho days may be coming to an end."
Hanak said that could provide an opportunity for positive change.
"One of the challenges for growers, small, medium and large, anywhere, is there's a market," she said. "Consumers are going to decide what they want. Other producers are going to decide if something looks hot.
"That doesn't doom agriculture in my mind. But it does lead to some shifts."