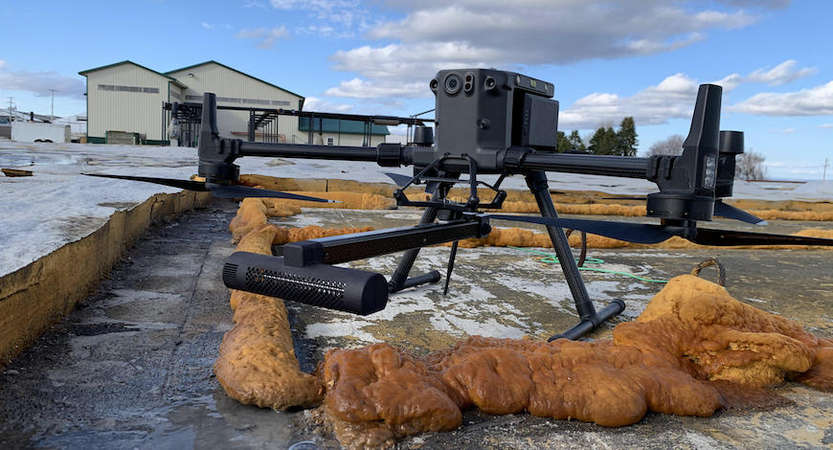 Unmanned aerial vehicle (UAV) equipment donated by Texas-based start-up SeekOps Inc will support UC Merced's research efforts in environmental monitoring and conservation.
The gift includes multiple state-of-the-art UAVs, as well as the necessary software and hardware to operate and maintain the equipment.
"We are incredibly grateful to SeekOps Inc for this generous gift, said Dean of Engineering Rakesh Goel. "The equipment will greatly enhance our research capabilities in environmental monitoring and conservation and will enable our faculty and student researchers to better understand and address the challenges facing our planet." 
SeekOps Inc specializes in applied methane detection and quantification technology to improve emissions management. The company's mission is to provide accurate, reliable and cost-effective solutions for methane monitoring and mitigation in the energy industry, including traditional oil and gas and renewable natural gas production (dairy biodigesters, landfills, etc.) according to its website.
The UAV technology will allow new advances for several research projects at UC Merced, including the Internet-of-Things for Precision Agriculture Engineering Research Center funded by the National Science Foundation.
"We are thrilled to support the important work being done by UC Merced researchers," said Brendan Smith, chief technology officer of SeekOps Inc and a graduate of UC Merced's School of Engineering. "We believe that our technology has the potential to make a real difference in the fight against climate change, and we are proud to partner with UC Merced in this important effort."
"Our partnership with SeekOps really underscores how UC Merced adds value to our region by encouraging students to pursue innovation and entrepreneurship to boost the economy and conduct research on new strategies for managing our water, land, food and ecosystems in a more holistic manner," said Professor Erin Hestir, whose Earth Observation and Remote Sensing (EORS) lab will manage and deploy the new equipment.
The gift from SeekOps Inc is part of a larger effort by the company to support research and innovation in the environmental sciences. SeekOps Inc is committed to working with partners across academia, government and industry to address the urgent challenges posed by climate change.
"Developing and deploying new technologies to accelerate a climate resilient future for our food systems in the San Joaquin Valley and across the globe is at the heart of our research mission," said Associate Dean for Research Professor Joshua Viers, who leads UC Merced's USDA-funded Artificial Intelligence Institute known as AgAID.
"We intend to use the drones for mapping important environmental conditions throughout the Valley as they relate to several projects," Viers said. That includes monitoring of floodplain restoration near Grayson, mapping wetlands and water flux at the Grassland Water District in Los Banos and measuring evapotranspiration at the UC Merced Experimental Smart Farm.