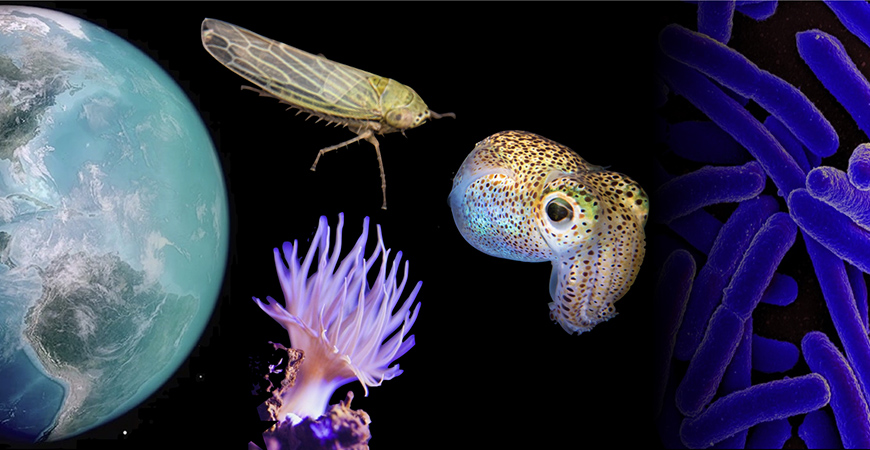 UC Merced has received a $12.5 million grant funded by the National Science Foundation (NSF) to develop the Biology Integration Institute (BII): INSITE — the INstitute for Symbiotic Interactions, Training and Education — a research collaborative that aims to expand the fundamental knowledge of symbioses and inform immediate and long-term conservation strategies in the face of climate change.
A multi-disciplinary team from UC Merced, Michigan State University (MSU) and Resilient Oceans will look at how climate change will impact ecosystems through a symbiotic lens.
"There's a lot of funding directed toward climate change, but everyone is looking at what you can see. We wanted to approach this problem through a microbial lens, so we proposed looking at symbiotic interactions," the project's lead principal investigator, Department of Molecular and Cell Biology Professor Michele Nishiguchi, said. "Microbes are invisible, and they are important because they are on everything."
BII-INSITE officially began Sept. 1 through a five-year agreement with NSF. As one of the campus's largest institute grants, it will create a framework for how researchers in the field and laboratory can evaluate and understand the impact of climate change broadly on interdependent species. It will also provide critical information to help guide environmental managers to, and, ultimately shape policies locally, nationally and globally.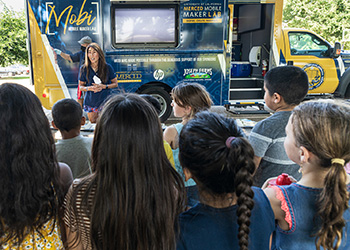 The INSITE team spans a broad range of researchers including biologists, chemists, mathematicians and conservation ecologists:
From UC Merced (in addition to Nishiguchi)

From MSU

Co-principal investigator Professor Elizabeth Heath-Heckman in the departments of Integrative Biology and Microbiology and Molecular Genetics

Professor Kevin Liu in the Department of Computer Science and Engineering

Consultants

Annick Cros, conservation ecologist, Resilient Oceans and Moss Landing Marine Laboratory

Patricia Campbell, assessment coordinator, D. Campbell-Kibler Associates, Incorporated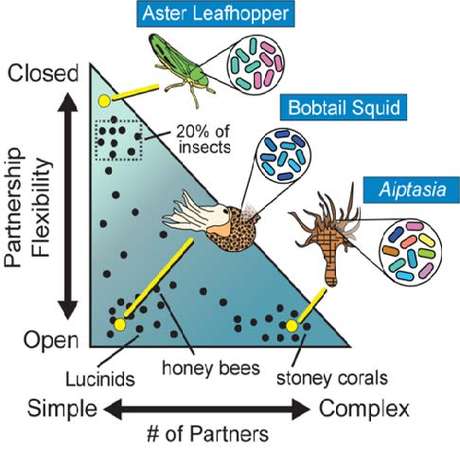 An Integrative Team Approach
Nishiguchi explained what makes the team's approach distinctive from other BIIs is its vision to develop experimentally-based models to predict the trajectory of symbiosis and provide managers and decision-makers with relevant information for conservation.
"We're using symbiosis as a model. The vulnerability of most species to climate change cannot be evaluated directly, nor through one biology discipline," she said. "That's where Annick Cros comes in with her conservation management expertise. Then we need to build some models to make it applicable."
Rutter is lead on modeling and will take the experimental data from the lab and field to develop mathematical models that predict persistence of symbiosis under a variety of climate change scenarios.
The team has selected a suite of organisms that cover basic modes of known symbiotic associations, ecological alliances (terrestrial and marine) and scaling complexity — bobtail squid (Nishiguchi and Heath-Heckman labs), plant-feeding leafhoppers (Bennett lab) and Aiptasia, a model sea anemone (Sogin lab).
The institute's Associate Director, Bennett, will help lead research, outreach and training activities, while participating in the research themes.
"I think what is particularly important about our efforts is that we're directly linking our research to species conservation in order to be effective and successful," Bennett said. The institute has established many connections in relation to its research to accomplish its conservation goals. Bennett noted the team has "worked extensively with private and state agencies, such as the Nature Conservancy in Hawaii, to understand endemic biodiversity and threats to those ecosystems. And Annick has worked with a lot of the same agencies in marine environments. We will be developing a network of managers to really tailor the models to their management questions."
These relationships are essential to developing effective conservation tools that are usable by resource managers.
Heath-Heckman will lead the institute's long-term evolution experiments with different systems in response to climate change.
"I study the mechanisms by which bacteria influence development and physiology in their hosts," she said. "I am interested in how both short- and long-term climate change can affect the host and the way the host associates with its bacterial symbionts."
I think what is particularly important about our efforts is that we're directly linking our research to species conservation in order to be effective and successful.