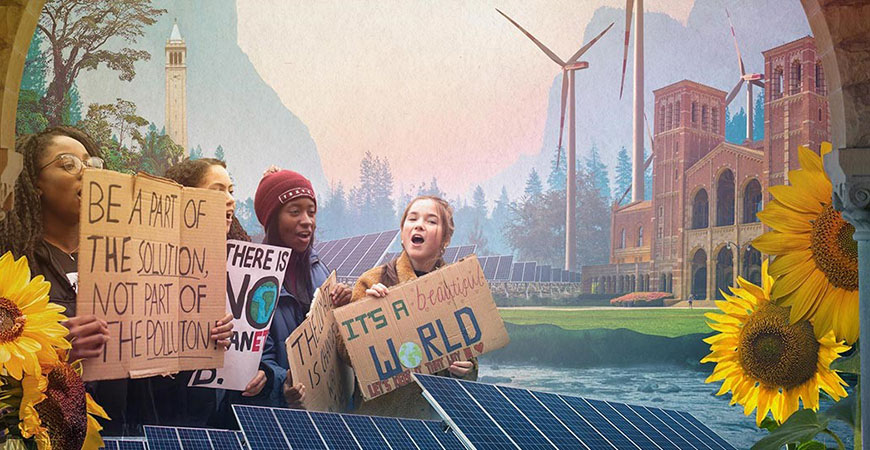 Undergraduates will have a new, one-of-a-kind class they can sign up for this fall — Climate Justice — a hybrid course that features lectures by faculty from all 10 UC campuses.
According to the UC Center for Climate Justice's website, "climate justice recognizes the disproportionate impacts of climate change on low-income communities and communities of color around the world, the people and places least responsible for the problem. It seeks solutions that address the root causes of climate change and in doing so, simultaneously address a broad range of social, racial, and environmental injustices."
Professor Tracey Osborne, the UC Presidential Chair in Management of Complex Systems and the founder of the UC Center for Climate Justice, based at UC Merced, has been developing the new class along with the center's Program Coordinator Sarah DuRoff and postdoctoral scholar Nicole Rangel.
Together, they gathered more than 20 other UC faculty members, as well as two from CSU Fullerton and Cal Poly Humboldt. Each instructor is prerecording lectures in professional production studios, speaking on climate-related topics ranging from Indigenous climate action and public health to the social and emotional fallout from climate uncertainty, including eco-anxiety.
Students will watch the lectures outside class, then gather for discussions, assignments and a group project.
"We're particularly excited because our students will have access to exceptional faculty from all 10 campuses and beyond," Osborne said.
Although the class is inspired by a previous course at UC San Diego that was focused on climate solutions, "I think what we're doing now is unique and it's something needed now more than ever, which is to focus on various dimensions of climate justice," Osborne said.
For the class project, students will work in small groups to examine various dimensions of a frontline community that is disproportionately affected by climate change, DuRoff explained.
The center received a grant from the UC Office of the President to develop the Climate Justice course as a pilot project at UC Merced, but the plan is to offer it to all UC campuses for their own use by spring 2023.
The lower-division class was late getting into the course catalog, so Osborne and DuRoff want to make sure that students who are now signing up for fall classes know that Climate Justice is an option for them. The course can accommodate 25 students this year and is open to students from any discipline with no required prerequisites. Students will find the course in the catalog under both MIST 11 and ESS 11.
"Climate justice is about taking a systems approach to understanding the root causes of the climate crisis," Osborne said. "The students in this course will have the opportunity to explore the climate crisis from the local, state, national and global scales. Our hope is that students walk away from the course understanding the root causes and equity dimensions of climate change and from that place, feel empowered to act."