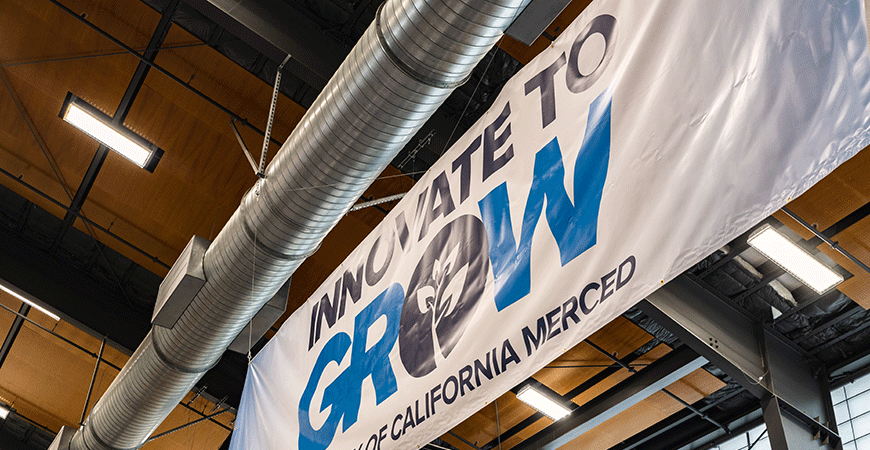 The biannual School of Engineering showcase event, Innovate to Grow (I2G), continued in-person and virtually this spring. The event highlighted innovative engineering design projects that were developed by undergraduates in partnership with 36 industry and nonprofit clients.
The event began with a poster and prototype session that included 66 teams and 330 students showcasing their projects in the Joseph E. Gallo Recreation & Wellness Center.
"This was the largest and most successful event we have ever hosted. The energy during the prototype session was incredible with so many cutting-edge projects from our students," said former Engineering Service Learning Director Chris Butler.
After the poster competition, students from the Engineering Service Learning, Software Engineering Capstone, Engineering Capstone, and Civil and Environmental Engineering Capstone programs delivered technical presentations to a panel of judges from the community.
The panel chose the following teams as the winners:
Engineering Capstone:
Track 1: AgTech: Team Burier 112
Track 2: Process: Dice 121
Track 3: Safety: Team Improve 122
Track 4: System: FATT 107
Track 5: Waste: The Bench Warmers 102
Civil and Environmental Engineering Capstone:
Track 6: Environment: Rainwater Irrigation Planning 402
Engineering Service Learning:
Track 7: Service Learning: Ball Wall 503
Software Engineering Capstone:
Track 8: Code: The Cable Company 327
Track 9: Computer: T-Squared 314
Track 10: Data: Drop Table 305
Track 11: User: Hummingbird Robotics 312
To learn more about the individual projects, visit the I2G website.
"It was such an amazing event and next semester's projects are already lined up," said Zeriyn Araneta, events coordinator for Engineering Service Learning. "I want to invite everybody in California to attend in person for the next I2G this fall, and those of you who are farther away, please attend virtually."
Save the date for the next I2G, Friday, Dec. 16. Register online.