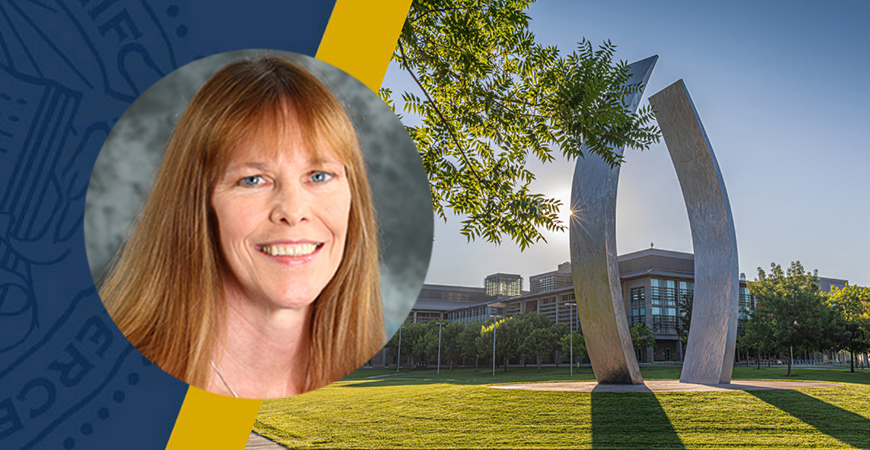 The 2022 report of the Lancet Countdown on Health and Climate Change warns that global health is at the mercy of fossil fuels. An accompanying policy brief states that an estimated 32,000 people in the U.S. died due to air pollution in 2020 alone; 37% of those deaths were directly related to fossil fuels.
Health psychology Professor Linda Cameron, a member of the Health Sciences Research Institute (HSRI) and director of the HSRI Translational Research Center, is one of dozens of researchers who contributed to and reviewed the annual report, which was made public on Tuesday. Other members include experts from a long list of institutions, including the World Health Organization and the World Meteorological Organization.
The report contains data that lay out the serious risks climate change poses to health in the U.S. Specifically, it found that:
Burning fossil fuels drives poor air quality, harms health and increases health inequities.
Extreme heat is becoming more severe, and there are wide inequities in heat-related illness and death.
Climate change is increasing the threat of infectious diseases.
Climate change harms mental health and well-being.
"This year, there was a strong focus on equity and the growing understanding that climate change is disproportionately affecting vulnerable communities, including communities of color and low-wealth communities," Cameron said. "These communities must be front and center in terms of prioritizing our research and community engagement efforts."
Experts say the U.S. is at a turning point in climate change. The Inflation Reduction Act, Infrastructure Investment and Jobs Act, and CHIPS and Science Act are creating new investments to support a transition to clean energy and build climate resilience.
The authors of the report developed a series of policy recommendations to ensure that historic actions and investments protect health today and create a healthier and more equitable future for everyone:
Achieve a zero-emission energy sector and prioritize air quality improvements in the most impacted communities.
Accelerate the transition to a zero-emission transportation system that equitably benefits health.
End the development of all new fossil fuel infrastructure and phase out fossil fuel subsidies as rapidly as possible, while ensuring a just transition.
Target investments in adaptation to build healthy, resilient and equitable communities.
Increase U.S. contributions to global climate change finance to support global health equity.
Cameron was asked to join the working group as a member and contribute to this report because of her expertise in climate change, communications and interventions. While it's an honor having been invited, she said it more importantly puts a spotlight on the work being done by many at the university.
"This is an opportunity for UC Merced experts to have a voice in the Lancet Countdown report, to be able to be represented as a strong advocate for climate change mitigation science and implementation science," she said. "This is part of the ongoing mission and character of UC Merced. We've done a lot in terms of prioritizing climate change and equity, even in the way we build our buildings and all of the research and community work that we do."
As more people become aware of climate change and its effects on everyday life, Cameron said its accelerating rate of change underscores the urgency for engaging in this type of science to come up with solutions.
"One of the places where we are seeing the greatest understanding and acceptance is among our young adults, and here at UC Merced we have the opportunity to train the next generation of scientists to conduct climate change mitigation research," she said. "That is another motivation of mine and my colleagues around the world: to develop scientific projects and onboard our students into research assistantships, so that they gain the skills they need in order to further this research in the coming years."
UC Merced joined numerous organizations across the U.S. in sponsoring this report. The university was acknowledged as a silver-level sponsor.
The complete Lancet Countdown report and policy brief are available online.