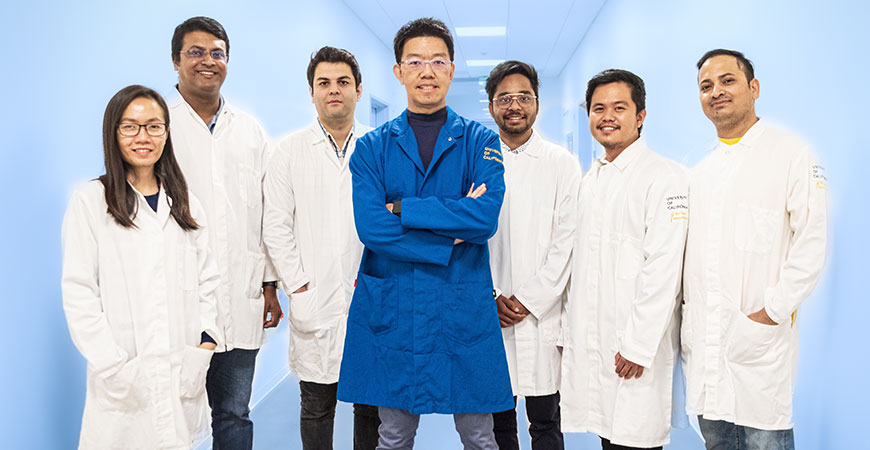 Green energy solutions are critical to meet current and future power demands, and while solar and wind power are great, they are also site-specific and intermittent.
That's why researchers such as mechanical engineering Professor Po-Ya Abel Chuang and his Thermal and Electrochemical Energy Laboratory at UC Merced are focused on developing hydrogen-based energy solutions, which can deliver energy on demand for anything from agriculture and information and communication technologies to transportation.
Through a pair of projects and a trans-Pacific partnership, Chuang and his lab are conducting experimental and simulation research to efficiently generate hydrogen and convert it directly to electricity.
They are working on material and design optimization with researchers in the Philippines through PCARI — the Philippine Commission on Higher Education's Philippine-California Advanced Research Institutes.
PCARI is a multi-year research collaborative supported by Silicon Valley entrepreneur Dado Banatao, who founded the Banatao Institute, which partners with the Center for Information Technology Research in the Interest of Society (CITRIS). Banatao's interest lies in bringing UC science and engineering to the Philippines.
Sustainable and Renewable Fuel and Electrolysis Cell Energy Technology (SureTech), aims to fabricate high-temperature fuel cells and electrolysis cells using new materials or compositions of electrode and electrolyte systems or infrastructure such as cell towers. The second project, CIPHER — Clean and Vertically-Integrated Pure/Applied Hydrogen Energy Research — is centered on optimizing next-generation energy storage systems through low-temperature solutions.
The researchers in both countries are developing new electrocatalysts, optimizing cell design and modeling hybrid systems to evaluate the feasibility and economic potential of large-scale deployment across the Philippines.
The Philippine archipelago has always been prone to natural disasters. But the number of disasters is increasing worldwide because of climate change, making off-grid backup power an increasingly critical need. Hydrogen fuel cells, once optimized and scaled up, are going to play an important role in those solutions.
Chuang said both projects offer benefits for the Philippines but can really be used anywhere because fuel cells are reliable, durable, easy to implement and have long lifespans.
"These projects are in phase 2 — a continuation of our previous work," Chuang said. "The first phase was proof of concept, and now we're going to bring larger-scale, more reliable, higher-performance systems."
The Philippine government is supporting the work with nearly $5 million in grants. Part of this initiative includes cross-university work for students, who will visit each other's campuses and conduct research in each other's labs, which Chuang said is mutually beneficial.
The undergraduate and graduate students in his lab are a diverse group, he said, from various countries, and the chance to work with some of the brightest Philippine students broadens their horizons that much more.
Banatao envisions this exchange as a way to accelerate development of globally competitive workforce in the Philippines, address societal-scale challenges and conduct high-end collaborative research and development projects.
Chuang has a long history of fuel-cell research, having worked for General Motors developing fuel-cell cars and continuing that work as he joined the faculty at Purdue University before coming to UC Merced in 2014. He's involved in fuel-cell projects sponsored by the Department of Energy, Los Alamos National Laboratory, Lawrence Berkeley National Laboratory and Lawrence Livermore National Laboratory, as well.
He was also recently awarded the KIT International Excellence Fellow award from Karlsruhe Institute of Technology and will be conducting collaborative research for energy conversion and storage at Helmholtz-Institute Ulm in Germany.
Through these activities, Chuang not only hopes to establish his international reputation, but also to promote UC Merced globally.
He's in the process of hiring postdocs for these projects and would like to add graduate and undergraduates to his lab, too. Some of his former students have gone on to jobs with General Motors, Bosch and with other researchers across the country and internationally.
"We need to give our students as many platforms as we can to be successful," Chuang said. "To me, that's part of my mission. We have a lot of opportunity to make an impact."