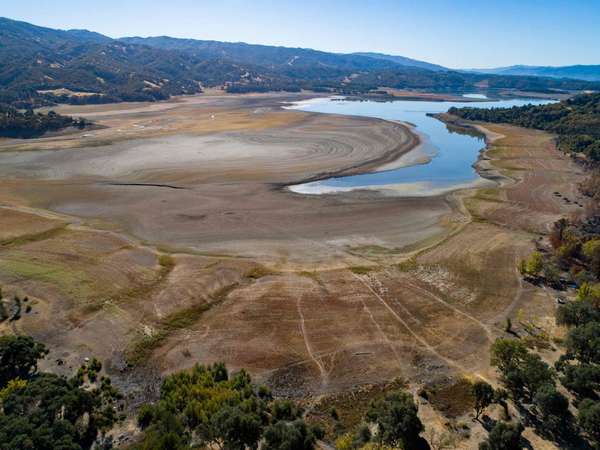 Losses to California's ag industry have continued to mount as the state's drought stretched into a third straight year, according to a report released Tuesday by researchers from the School of Engineering and the Public Policy Institute of California.
The report, led by Professor Josue Medellín-Azuara, estimates direct economic impacts on farm activity of $1.2 billion this year, up from $810 million in 2021 — representing a 4.9% and 3.4% impact on crop value added, respectively. "Value added" is the contribution from a sector to the region's gross domestic product. It includes profits, compensation and taxes.
Beyond direct farm effects, impacts on food processing industries that rely on farm products were roughly $845 million in 2022, up from $590 million in 2021. Altogether these consequences total $2 billion in value-added losses this year alone (5.9% reduction with respect to 2019) and a loss of 19,420 jobs, the researchers calculated.
But it could have been worse, the report shows.
"Findings from our study indicate drought impact mitigation actions such as land idling and increased groundwater pumping were the most common. More extensive fallowing in the Sacramento Valley, along with water trading, decreased the economic losses of a drought of this magnitude," said Medellin-Azuara.
The 2020-2022 water years constitute the driest three-year period in California's instrumented historical record.
"California is no stranger to drought, but this current drought has hit really hard in some of the typically water-rich parts of the state that are essential for the broader state water supply," said Professor John Abatzoglou, a coauthor on the report.
"The Sacramento Valley and its communities have been ground zero during this drought," said Alvar Escriva-Bou, a senior fellow at the Public Policy Institute of California. The report estimates that statewide idled land in 2022 increased by 750,000 acres with respect to 2019, with more than half of these farms in the Sacramento area, and a majority of them in the rice production counties of Sutter, Colusa and Glenn.
"The Sacramento Valley showed greater vulnerability this time because of the unprecedented climatological conditions, but also because there's less groundwater pumping capacity. Given that it's a normally wetter region, it might be wise to assess investments in recharge and pumping infrastructure to increase drought resilience," added Escriva-Bou.
"On top of precipitation deficits, this drought has shown the importance of what some are calling an 'evapotranspiration tax' — increased crop water demand due to a thirsty atmosphere. Impacts of water supply deficits are exacerbated by increased irrigation needs to maintain crop productivity," said graduate students and report coauthors Spencer Cole and Jose Rodriguez. In some locations, crops such as almonds, berries and tomatoes had decreased yields due to water stress, but also because of heatwaves.
In addition to drought impacts, California's ag economy also suffered from disruptions in the supply chain, including delays in shipping crops out of California. The report's authors said those delays may result in increased inventory and could influence some of California's specialty crop prices.
Each drought provides the opportunity to learn something to apply to the next drought, researchers said.
"We need to more fully invest in building climate resilience in our rural, agriculture dependent communities as they are on the front lines of climate impacts to their economic base," said UC Merced Associate Dean for Research Professor Joshua Viers, also a report co-author. "We can only expect prolonged dry periods briefly interrupted by pronounced wet ones — which will further stress access to clean drinking water and steady employment, among many challenges."