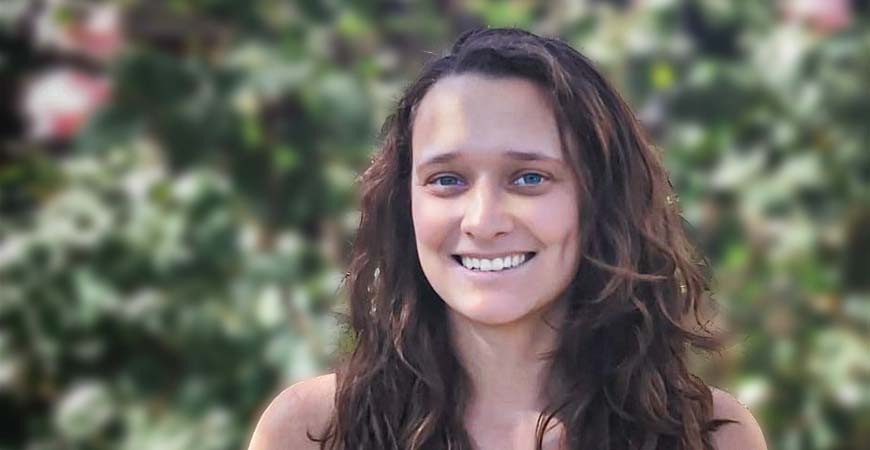 With COVID-19 protections lifting, many people are eager to travel again. Among them is graduate student Elena Bischak, who is planning multiple trips to Haiti in the coming months to study improving sanitation and human waste processing in the Caribbean country.
Bischak is a third-year Environmental Systems graduate student studying resource recovery for sanitation systems in Professor Rebecca Ryals 's lab and was recently named the 2021 District Scholar by Rotary International District 5220, which includes the San Joaquin Valley region.
Bischak connected with Ryals prior to enrolling at UC Merced, realizing her interests and experience aligned with Ryal's agroecology lab. Ryals has published several papers with fellow scientists in Haiti and is supervising Bischak's research, even helping connect her to a local nonprofit with which she can work.
"It is a privilege to work with Elena in my lab. Elena's dissertation research focuses on interrelated sustainability challenges. Her work investigates novel ecological approaches to nutrient recovery from human excreta and its safe reuse on agricultural soils to promote soil health and climate mitigation," Ryals said. "She will undoubtedly be an effective leader and change-maker throughout her career. I am confident that Elena will be an exemplary Rotary scholar, and this opportunity will be instrumental in helping her to do impactful research."
Bischak will be working with Haitian organization SOIL, a nonprofit that safely collects and treats wastewater. According to UNICEF and the World Health Organization , 4.2 billion people do not have safely managed sanitation. Mishandled human waste can result in an increased risk of waterborne diseases and environmental degradation. Less than one percent of waste in Haiti is safely treated according to SOIL , which has led to "one of the largest and most virulent cholera epidemics in recent global history."
Quality of life can be greatly improved with access to modern conveniences like proper sanitation, something Bischak witnessed during her time in the Peace Corps in Senegal. Rotary's mission to serve others and advance world peace aligns with Bischak's interest in modernizing wastewater practices in developing countries.
"We saw some really dynamic candidates — candidates who were in the top tier for the award. Then came Elena!" District 5220 Governor Sherry Cotta and the Scholarship Committee Chair Mary Ann Sanders said in a statement. "Elena had a practical approach to how Rotarians could share their time, talent and treasure to make a real difference, an affordable and sustainable difference, in the lives of people with needs that were not being met. She was able to share with us her very clear and pragmatic understanding of the work she'd been doing and the work she plans to do in the future. We were so excited to be able to help her reach her goals, and ultimately help people in need."
There are also environmental advantages to modern systems, like repurposing feces for compost, or Bischak's interest in a relatively new field: urine recovery. Currently, SOIL separates urine and feces and while the latter is used for compost, which supports agriculture and climate mitigation efforts, the urine is not being utilized. Bischak hopes her research will help find an innovative way to get the most out of SOIL's existing efforts.
"My time in Senegal helped me realize I wanted to work in an area of applied science and to do something related to climate change mitigation and ecological restoration and this is a great opportunity to do that," Bischak said. "I'm looking forward to the coproduction of knowledge with Haitian scientists and being able to develop data in an equitable way that will support Haitian society."