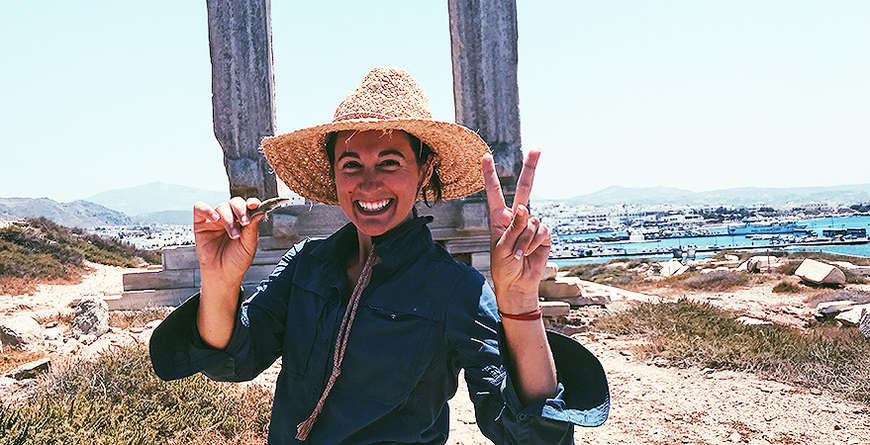 Quantitative Systems Biology Graduate Program alumni Kinsey Brock and Robert Boria were awarded Postdoctoral Research Fellowships in Biology (PRFB) from the National Science Foundation (NSF).
Boria and Brock — both former members of paleoecology Professor Jessica Blois' research group — graduated in May with doctoral degrees and are headed to top universities to continue their important research.
"Rob and Kinsey were both leaders in my lab and stellar scholars. They each published several nice papers stemming from their dissertation chapters along the way and they both secured other prestigious fellowships to support their work at UC Merced," said Blois, who earned an NSF Faculty Early Career Development Program (CAREER) award in 2018.
The PRFB fellowship aims to encourage independence at an early stage of the research career to permit fellows to pursue their research and training goals.
"Receiving the NSF PRFB is surreal — growing up I would have never guessed I'd be writing to the National Science Foundation about my lizards and evolution," said Brock, who is from Michigan. "It feels so wonderful that my research and ideas are valued."
For her dissertation research, Brock used Aegean wall and similar lizards in three color morphs — orange, yellow and white — as her study system to understand how diversity is maintained and eroded in nature and the evolutionary consequences of that diversity.
"I found that these color morphs each tend to be associated with different environments, and these morph-environment association are repeated across many islands where lizards have been isolated from each other for thousands of years," she said.
Her postdoc at UC Berkeley will be a continuation of this work and will help her understand how the genomes of color morphs differ and if these differences can be explained by interactions with the environment.
"The overarching goal of my postdoc work is to understand these morph genome-environment interactions and if they are predictable," she said. "Predicting evolution is tricky, but finding these patterns is crucial for understanding how organisms will persist in our rapidly changing world."
At UC Berkeley, she will collaborate with scientists in Greece at the National and Kapodistrian University of Athens to study these colorful reptiles as well as do scientific outreach that combines art and science to teach elementary school students about evolution.
"Kinsey's postdoctoral research focuses on understanding how the environment influences genetic and phenotypic diversity and the genetic basis of adaptation to hotter, drier environments," Blois said. "This is really important as climates continue to change in the future. We need to know more about how these changes influence biodiversity and for many species, adaptation to hotter and drier environments will be the key to their success."
On top of her stellar research, Brock made an impact on many different parts of the UC Merced community through her leadership and engagement. She was instrumental in establishing RadioBio, a science podcast that discusses biology topics, and she helped expand the campus's Women in STEM group to include graduate students. She also served as an inaugural fellow for the Carson House: Sustainable Futures Living Learning Community for undergraduates on campus.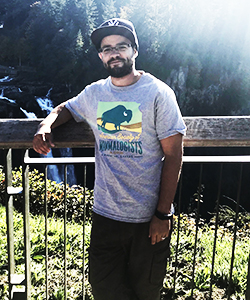 While at UC Merced, Boria also excelled, securing a three-year Ford Foundation fellowship to support his research and an NSF Alliances for Graduate Education and the Professoriate (AGEP) to help him develop as a teacher and scholar.
"Receiving the NSF PRFB fellowship is validation for all the hard work I have put in over that last six years at UC Merced. I was extremely humbled and excited to receive this award" Boria said.
For his dissertation thesis, he studied how two small mammals — the dusky-footed woodrat and deer mouse — responded to past climate episodes. His research noted that each species had several geographically restricted populations and they responded by reducing and expanding their populations over time.
"By understanding the past, we can begin to understand how species will respond to future warming," he said.
As a postdoctoral scholar, Boria will continue his research on deer mice in California at Harvard University with Professors Scott Edwards and Hopi Hoekstra. His research will focus on projecting how genetic diversity will change in a warming planet.
"Rob will build on the foundation he developed at UC Merced by integrating the key historical processes he researched during his Ph.D. with forecasts of future natural and human impacts," Blois said. "This would allow him to determine whether there are particular regions where species are more or less vulnerable to environmental change, which could help us better target conservation efforts."
Boria's long-term goal is to improve the quality of science education for students from underrepresented groups.
"As a member of an underrepresented minority growing up in New York City, I acquired firsthand experience of not only the deficiencies but also the potential of STEM training in the public-school system," he said. "I can accomplish my goal by becoming a professor at a research institution, heavily involving underrepresented undergraduate students, and also work with community colleges to improve the number of minority students in science research."