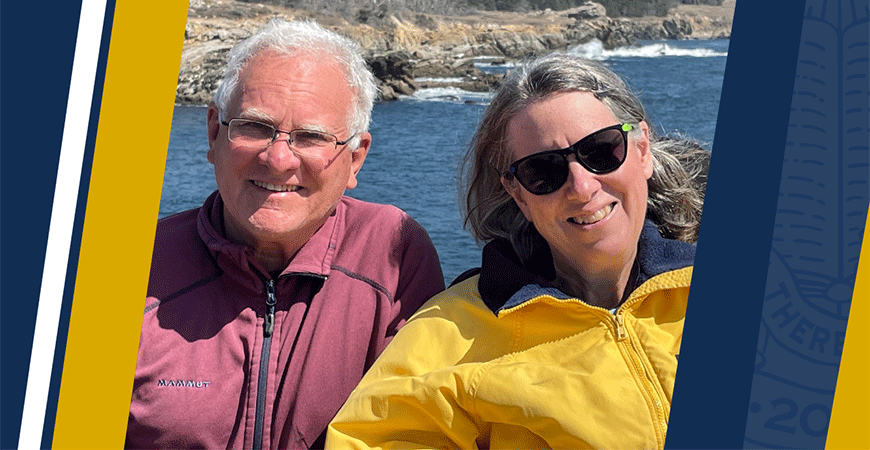 UC Merced undergraduates interested in pursuing field research and mentorship opportunities at one of the University of California Natural Reserve System (NRS) sites will now have access to vital scholarship support, thanks to a generous gift from Professor Marilyn L. Fogel and Christopher W. Swarth.
Inspired by their time on the UC Merced campus, Fogel, who served as professor and chair of the School of Natural Sciences' Life and Environmental Sciences Department from 2013 to 2016, and Swarth, a former NRS project scientist and Merced Vernal Pools and Grassland Reserve director, have established the Swarth Fogel NRS Undergraduate Research Scholarship to help encourage and support students' passion for scientific exploration and discovery.
"When students are in the early stages of their careers, they don't quite know what they want to do," said Fogel. "Giving them any experience in a research setting — whether it's hanging around the lab or collecting their own set of data — exposes them and opens their eyes to many possibilities."
"It's important because through field research, students can get sparked about science in ways that don't always happen in the lab or classroom setting," added Swarth.
Through their own close work with UC Merced undergraduates, Fogel and Swarth saw firsthand the academic promise of the university's burgeoning scholars, along with the challenges they faced — particularly students from underserved and underrepresented communities. Fogel and Swarth hope the new scholarship endowment will provide greater access for those who have been historically excluded from field-based research, in addition to increasing the scope of scientific discovery being conducted at the most diverse University of California campus.
Since leaving UC Merced in 2016, both donors have been committed to giving back and continuing to contribute to the institution's rise in research excellence. Swarth, now retired, and Fogel, who recently retired from UC Riverside as distinguished professor emerita of geo-ecology and director of the Environmental Dynamics and Geo-Ecology Institute (EDGE), view their UC Merced scholarship fund as a chance to leave a legacy.
"The fact that this gift is going to support a student population for whom it could really make a difference is important to us," said Fogel. "This is a first for the UC Merced NRS and pretty new for the School of Natural Sciences."
"We're both really excited about the projects that students will undertake and look forward to getting to know them and the professors and staff who work with them," adds Swarth. "My hope is the students who receive these scholarships will have exciting experiences studying nature in the reserves, and that it leads them further down the road of science."
"This generous gift by Marilyn Fogel and Chris Swarth is a testament to the power of the UC mission," said Interim Vice Chancellor for Research and Economic Development Marjorie Zatz. "Our students receive a world-class education and, through the new Swarth Fogel NRS Undergraduate Research Scholarship, they will now have the opportunity to be better connected to, and help drive, the world-class research being conducted on our reserves."
"Through this gift, Marilyn and Chris are extending the impact they've already had on the UC Merced community," said School of Natural Sciences Professor and NRS Faculty Director Jessica Blois. "Both
Chris and Marilyn served as my own mentors and colleagues at UC Merced, so I am thrilled and honored that they continue to hold UC Merced close to their hearts and are continuing to invest in our students and our school."
Fogel and Swarth are grateful for their tenures at UC Merced and the chance to help build and define the ecology programs that remain an important part of the campus today. Now, through the Swarth Fogel NRS Undergraduate Research Scholarship, their dedication to advancing research and innovative thought will benefit future generations of environmental and natural scientists.
"We both feel that if you have the ability to help others, that's the thing you've got to do," said Swarth. "And what could be more important than education and research?"