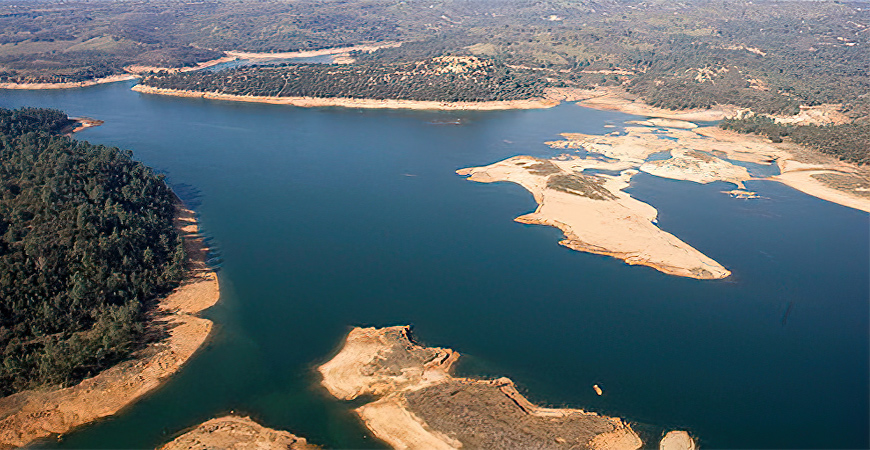 Professor Marc Beutel and his graduate student Mark Seelos have been recognized for papers and a presentation on toxic mercury mitigation by the North American Lake Management Society.
Beutel, an environmental engineer, co-wrote two of a group of three papers named Best Paper of the Year at the 2020 North American Lake Management Society annual conference.
In the winning paper, entitled "Hypolimnetic Oxygenation 2: Oxygen Dynamics in a Large Reservoir with Submerged Down-flow Contact Oxygenation (Speece cone)," Beutel and his former Ph.D. advisor, UC Berkeley Professor Alex Horne, detailed what happened when an engineered oxygenation cone using pure oxygen gas was installed in the bottoms of very large reservoirs to protect fish health. The papers are based on their research at Camanche Reservoir and a fish hatchery downstream of the reservoir on the Mokolumne River.
The toxic compound methylmercury is produced by anaerobic bacteria that feed on mercury and thrive in zero-oxygen conditions. Adding oxygen to the water should slow or stop the conversion process.
"The oxygenation cone turned out to really improve the overall water quality of the reservoir — and help the fish," Beutel said. "By avoiding anoxic conditions in bottom waters, sediments released less ammonia and phosphate. Before the oxygen was introduced, ammonia and phosphate would mix with surface water and stimulate the growth of algae that degrades water quality.
"I worked on this project as a graduate student back in the 1990s, if you can believe it," Beutel said. "To this day, it informs my research on how oxygen affects the cycling of pollutants in reservoirs. It is an important study that is now formally documented in the peer-reviewed literature for others to see."
Seelos, a third-year Ph.D. candidate in the Environmental Systems Graduate Group and an employee of Valley Water in Santa Clara County, won second place among all student presentations when he demonstrated that oxygenation could pose unintended risks to water quality in some reservoirs.
That conclusion upends previous understanding of the topic, because most previous studies only considered the positive effects of oxygenation.
"About half the reservoirs in California are impaired because of historic mercury and gold mining," Seelos said.
"It's not just an issue for the water quality and the fish, it's a social justice issue, too, because many of the people catching and eating fish from these impaired reservoirs do so for economic reasons," he explained.
Valley Water has installed systems to inject pure oxygen into the water at the bottom of reservoirs to prevent mercury from converting into methylmercury, the kind that is toxic and bioaccumulates in fish and people. Usually these systems are used to control algae.
But those systems appear to have downsides.
"We actually saw some negative effects," Seelos said. "The water temperatures increased, and the water mixing increased nutrients that feed all kinds of algae, including toxic cyanobacteria."
His presentation, entitled "Reservoir Oxygenation: A Pyrrhic Victory," also included a discussion of alternative mitigation methods that won't produce as much water mixing, including adding soil amendments that could serve the same benefit as oxygen.
He gave a similar presentation on his work to the California Lake Management Society, and will continue researching oxygenation and mercury control for his dissertation and for his job.
"Our goal is to find a remediation method that can be introduced to a natural system," Seelos said, "but we need to consider the effects in a holistic way. There are a lot of kinks that need to be worked out."