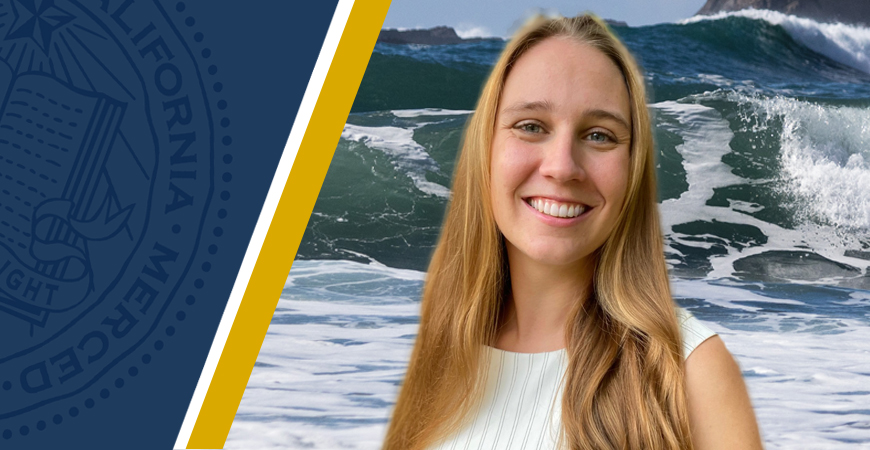 UC Merced master's student Selina Brinkmann has been awarded a Rhodes Scholarship for study at Oxford University — a first for the campus.
"A Rhodes Scholarship being awarded to one of our UC Merced engineering students is an amazing first," School of Engineering Dean Mark Matsumoto said. "This first showcases our growing stature as a research university and what I love about UC Merced. Selina's hard work and desire to excel, which is seen in many of our students, has led to this prestigious distinction."
Brinkmann, who is from Germany, earned a bachelor's degree in mechanical engineering from the University of Siegen where she focused on successfully reducing noise pollution of wind turbines. She started at UC Merced in 2019 joining Professor James Palko's lab researching sustainable water management for agriculture.
She said the location and the intimacy of the mechanical engineering program attracted her to graduate studies at UC Merced.
"The class sizes are small, and it is easy to get in touch with a professor," Brinkmann added. "I was intrigued by the focus on renewable energies and sustainability. No other campus has such a big focus on it."
Her research centers on reducing freshwater usage in greenhouses by replacing it with drainage water from the fields.
Brinkmann credits her UC Merced courses and class projects for helping her become more independent in her studying and learning habits.
"I am less worried about not knowing something and a lot more willing to ask for help when needed. I learned that one cannot be an expert on everything," she said. "Going to UC Merced prior to pursuing my Ph.D. eased me into graduate studies, but Professor Palko showed me that graduate research is something I enjoy."
A Rhodes Scholarship being awarded to one of our UC Merced engineering students is an amazing first.
"Our ME faculty are doing world-class, cutting-edge research that matters, and putting our graduate students' career growth first," Mechanical Engineering Graduate Group Chair and Professor YangQuan Chen said. "This Rhodes Scholarship is an excellent indicator of the excellence of our students, faculty research and the university as a whole."
The Rhodes Scholarship is the world's preeminent and oldest graduate fellowship, based at the University of Oxford since 1903. Administered by the Rhodes Trust in Oxford, the program awards 100 fully funded Scholarships each year to students from anywhere in the world with proven academic excellence who also show exceptional character, leadership, achievement in extra-curricular activities and a commitment to solving humanity's challenges.
In the fall, Brinkmann heads to Oxford to start a Ph.D. in Wind and Marine Energy Systems and Structures, researching turbomachinery.
"The Rhodes community in England is a unique and welcoming group and has already been in touch with me about their experiences and what to expect," she said. "I will not have to worry about funding for the duration of my degree and will get in contact with amazing young people from all over the world. I am looking forward to exchange ideas and opinions with them."
The first semester of the program will concentrate on relevant coursework and workshops, followed by a group project before the Rhodes Scholars begin their research.
For Brinkmann, being able to pursue a Ph.D. at Oxford allows her to connect with outstanding scientists and research facilities.
"Oxford is working closely with the University of Edinburgh and University of Strathclyde, thus pooling their resources and knowledge in the field of wind and marine energy systems – a unique chance!"
After graduating with her Ph.D. from Oxford, Brinkman said she'd love to work for a larger marine energy center such as the Pacific Marine Energy Center or European Marine Energy Center.
"Ultimately, I want to become a professor, working on increasing water turbine efficiency and usage," she said. "I would also love to join Engineers without Borders and share my knowledge in renewable technology such as wind and marine energy."