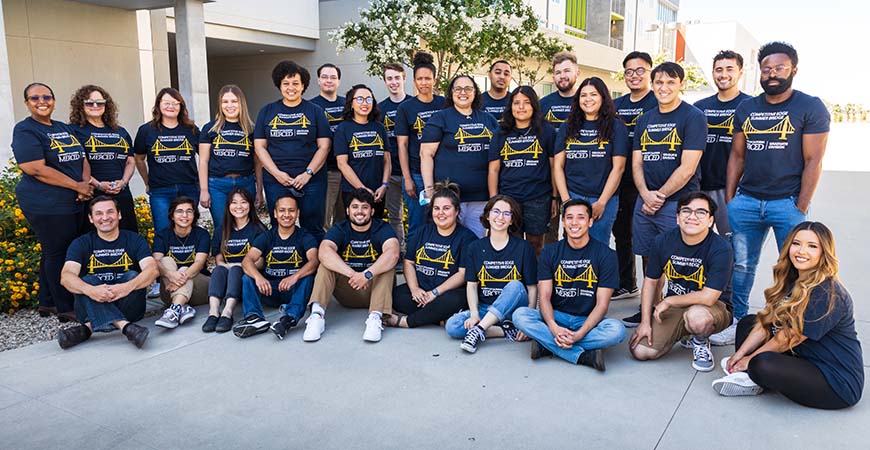 While the campus remained quieter than usual this summer, a group of new graduate students began their UC Merced journey earlier than the rest of their cohort.
On July 6, 19 incoming grad students began the six-week Competitive Edge Summer Bridge program to get a head start in acclimating to graduate studies at UC Merced. The students, who are first-generation college-goers or from backgrounds underrepresented in higher education, were each nominated by a faculty member or graduate group chair to participate in the program.
"This is our fifth year doing the Competitive Edge Summer Bridge program, and it was one of the first in-person instructional activities to be held on campus since the pandemic began. We are thrilled that everything went so well," interim Graduate Dean Chris Kello said. "It was just like old times in many ways, but with face coverings."
The pandemic prevented Graduate Division from hosting the program last summer because it was designed to be held in person.
"One of the greatest benefits of the program is the peer network students build with one another," Kello said. "During Summer Bridge, we see students gravitate toward each other and there's no substitute for that. When we get off Zoom, that's the end of the conversation, but when the workshop ends in person, people continue to talk and make connections."
Graduate students who participate in the program move to Merced early, are placed in a cohort to build early support structures, begin work with faculty to get a head start on research techniques and projects, and attend tailored workshops and seminars designed to give them a broad foundation of professional knowledge. They work with funding experts to make significant progress on major external predoctoral fellowship proposals. Several past participants have been awarded prestigious fellowships, including Craig Ennis, Maia Powell and Melissa Spence.
Environmental Systems Ph.D. student Seth Gilchrist drove across country earlier this summer from Arkansas, making a stop at one of the world's natural wonders on his way to Merced.
"My mom thought it'd be a sacrilege for a geologist to not have seen the Grand Canyon," said Gilchrist, who graduated in 2018 from the University of Arkansas with a bachelor's degree in geology.
Gilchrist is joining Professor Claire Lukens' lab as her first graduate student and will be looking at the chemical weathering of two specific sections of the Sierra Nevada.
"I already know the campus and I'm meeting people and making friends," he said. "They've gone over a lot of basics like setting up your Box and email accounts. If you start off on the right foot, you can just use that to carry yourself as the semester starts."
This is our fifth year doing the Competitive Edge Summer Bridge program, and it was one of the first in-person instructional activities to be held on campus since the pandemic began.
First-generation Economics Ph.D. student Tiffany Ho, who was born in Saigon and raised in Westminster, Calif., found the Summer Bridge program extremely helpful.
"We learned the importance of fellowships and balancing mental health, our studies and other duties," she said. "We also learned how to develop a mentor-mentee relationship with our advisor or future advisor."
Ho earned a bachelor's degree in economics from Chapman University and a master's degree in economics from UC Santa Barbara. She worked as a statistician for the United States Department of Agriculture National Agricultural Statistics Service through July.
Economics and Business Management Department Chair Professor Justin Cook nominated Ho for the summer program.
"It is unusual for students in economics to enter graduate school with a research agenda. Tiffany is unique in this aspect, and the Summer Bridge program will further her research development, providing a head start in work on her dissertation," Cook said. "The skills associated with the program — including writing and data management — are very important for the economics Ph.D., which primarily focuses on empirical analysis."
This year's program also saw the addition of postdoctoral scholars John Thompson and Melanie Ikeh to help with the fellowship writing portions. The students were also able to tap into grad mentors Leila Wahab and Bianca Hinojosa, who participated in Summer Bridge the summer before they started their graduate studies, and Houa Vang.
"The grad student mentors helped me build a solid foundation — from helping me understand how the days of the week are abbreviated on class schedules to writing and planning a proper fellowship statement," Ho said. "I really appreciated their input since they've gone through this."