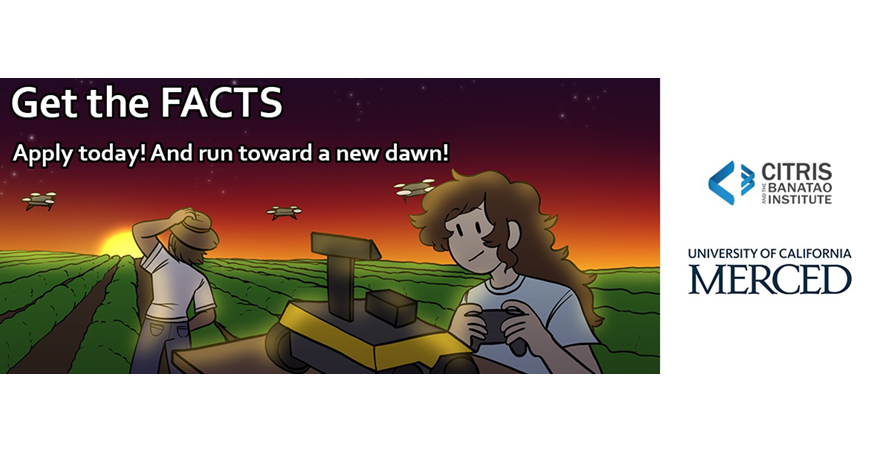 Many students don't think about internships until later in college, but at UC Merced undergraduate students can take advantage of hands-on training with faculty before even starting regular classes. Through the FACTS Bridge Program, first-year and transfer students get a head start on research and much more.
The FACTS Bridge Program is a new internship designed to immerse students in agricultural science and research. It stands for San Joaquin Valley Food and Agriculture Cyberinformatics Tools and Science (FACTS). The six-week summer course, funded by the United States Department of Agriculture and National Institute of Food and Agriculture, introduces students to the world of research in agricultural science and technology.
Led by Professor Colleen Naughton, the internship's goal is to give undergraduate students experiential learning opportunities in food, tech and agriculture. Students will visit local farms and industries, building practical experience and understanding of the region's agricultural context for their research and future careers. These hands-on educational experiences will help lead to a well-prepared and modern workforce that can fill expected gaps in the country's food, agriculture and related industries.
"Our ultimate goal is to train a diverse and competitive agricultural workforce that will increase agricultural productivity and food security for those who need it most," Naughton said. Naughton brings her experience from prior work with the Peace Corps in Mali and current research as a member of the Department of Civil and Environmental Engineering.
To meet the needs of new students, training goes beyond research and academics. The bridge program provides crucial training in life skills such as budgeting, studying and stress management needed for success at the university. Students will have the opportunity to select which professor and areas of focus — ranging from hydrology to nutrition and food security — to work with to begin their academic careers. A complete list of faculty mentors is available here.
Funding for the FACTS program comes from the United States Department of Agriculture (USDA). The proposal was put together by CITRIS (Center of Information Technology Research in the Interest of Society) in collaboration with faculty from School of Natural Sciences, School of Engineering and Public Health as well as UC Agriculture and Natural Resources. The proposal was one of 26 grants selected for funding by the USDA program as part of the National Institute of Food and Agriculture's education and workforce development program.
Students interested in applying for the internship can do so here.
The deadline is May 1. Those with questions can reach CITRIS Program Director Leigh Bernacchi at citris@ucmerced.edu.