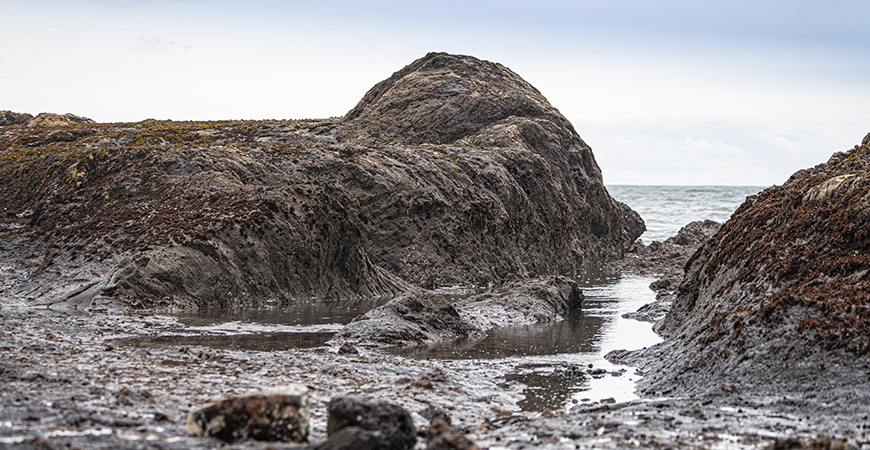 California is known for its beautiful coastline, where the Pacific Ocean meets sandy beaches and rugged cliffs. While many scientists have studied the land or the ocean independently, less is known about the nexus of the two.
Now with the help of a $750,000 award from NASA, civil and environmental engineering Professor Erin Hestir (below) and her postdoctoral scholar Dulcinea Avouris will be studying this over the next three years along with civil and environmental engineering Professor Tom Harmon
.
The project, titled "Wildfire Impacts on Watershed Transport of Carbon to Coasts," will examine how wildfires alter changes in carbon and sediment along California's coastline and how these changes impact kelp forests and coastal productivity. The study will examine changes from 2000 to 2020, a period in which historic wildfires have occurred.
The award is part of NASA's Minority University Research and Education Project (MUREP) with a special focus on ocean biology and biogeochemistry. Ten grants were awarded to universities for projects that support NASA's mission in seeking a better understanding of the ocean's role in the Earth system. More than $6.6 million will be distributed to these institutions over the course of a three-year period.
"Satellite data from NASA has recently revealed the threats that climate change and marine heatwaves have on our kelp ecosystems. However, little is known about how other climate-induced events like California's record-breaking 'megafires' will affect our coasts," Hestir said. "This funding from NASA will help us fill a missing piece in our ability to predict what will happen to our coasts as our climate continues to warm."
Avouris (left) played an integral role in the proposal and will work on the project with Hestir. It was the first large proposal she helped write, and the first one that was funded, which felt like a milestone, she said. 
One benefit of the study is that historical data is freely available, archived in many databases including one of NASA's. This means, Hestir and Avouris can plot historical changes by combining two approaches: watershed modeling — which often stops at the mouth of the river and is a helpful tool to understand what leaves a watershed — and remote sensing, which they will use to analyze the transition from water to land.
"Terrestrial carbon input to the coastal ocean is not well understood, in part because the transition zone from land to water can be challenging to study," Avouris said. "I am the lead for the remote sensing portion of this project. I will be using data from various satellite-based sensors to assess the severity and extent of wildfires, and to quantify organic carbon and turbidity in coastal waters. I will also be using remote sensing products that map kelp forests from our collaborators to calculate change metrics over the study period."
Training diverse future scientists with the skills to enter the NASA workforce is a driving principle behind the funding. The project will provide NASA-unique research experiences and internships at the Jet Propulsion Lab to UC Merced undergraduate students to help create the next generation of scientists and engineers.
"UC Merced is well suited for this, with such a range of undergrads and grad students," Avouris said. "I am looking forward to being a part of that effort — both in learning to be a better mentor, as well as mentoring the next generation of scientists."
Hestir and Avouris credit a host of fellow female Bobcats for making their proposal successful. They worked with Leigh Bernacchi of the Center for Information Technology Research in the Interest of Society (CITRIS) as well as Kelly Bolcavage and Sarah Naumes in the Office of Research and Development for proposal development support. Joyce Yowell and Patricia Nunes of the Sponsored Projects Office also helped with proposal material and submission.