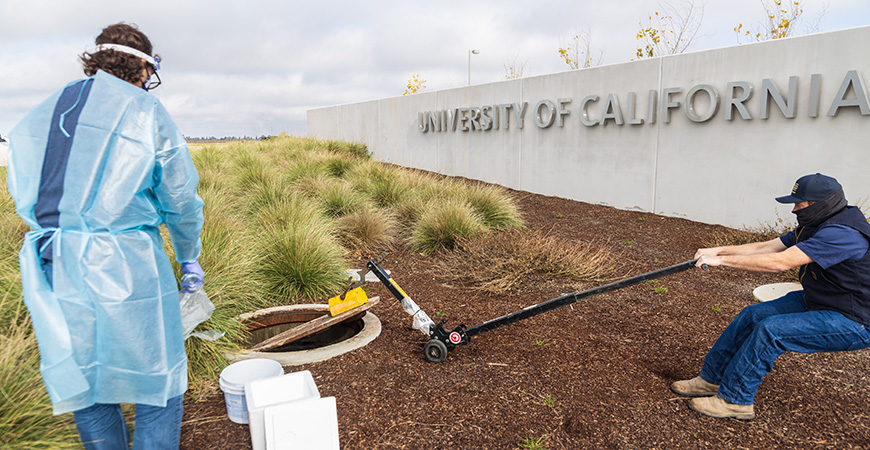 COVID-19 upended life as we know it, especially among the science community. While some scientists rushed to develop a vaccine, others sought a better understanding of the virus, hoping to predict where the next outbreak might be in order to better contain it. At UC Merced, this included testing the campus's wastewater.
UC Merced's campus has many buildings, but just one pipe through which wastewater leaves the campus. This turned out to be helpful to discern whether there would be forthcoming positive COVID-19 test results.
Individuals with COVID-19 shed the virus particles in their stool meaning scientists can reverse engineer where a COVID-positive person was, even if they are asymptomatic or the virus is still in incubation, and they are not yet showing symptoms.
"It's an early warning system," said Shari Larsen, a third-year doctoral student in Professor Mark Sistrom's lab. "If you have COVID, you are shedding the virus in your stool before you even test positive in a saliva sample."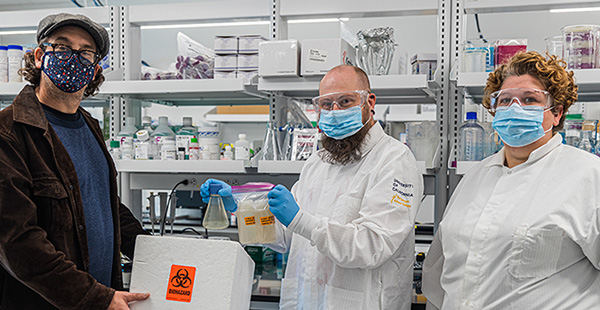 Testing wastewater for infectious diseases is nothing new — the body reveals a lot through excrement — so applying this approach to COVID was a natural next step for scientists in the field.
Starting in December 2020, Larsen, Sistrom and Professor Marc Beutel began collecting and testing the samples of wastewater collected on campus and at the Merced wastewater plant. Beutel donned his personal protection equipment including gloves, face mask, face guard and disposable lab jacket and met Facilities employees at the manhole cover.
"I do a lot of work in the field sampling water samples in polluted aquatic systems, so this was easy for me to do," Beutel said. "I had to do additional safety training and get buy off from UC Merced Environmental Health and Safety to collect and handle sewage samples, since they can be a minor health hazard, but not from a COVID perspective as it is airborne transmitted. I was also excited about the opportunity and thought I would lend a hand."
Beutel collected samples every Tuesday and Thursday for about six weeks. He used a weighted tool that stretches 20 feet under the manhole and into the wastewater stream before using a peristaltic pump to retrieve the 500-milliliter wastewater sample which was kept in a sterile bottle. He took these samples, along with samples collected from the City of Merced's wastewater plant to Sistrom's lab, where Larsen conducted the bulk of the testing under Sistrom's supervision.
"It was good to leverage our lab's past experience with microbiology on wastewater and I think we have been successful with that," Sistrom said of the wastewater research thus far. "We've now got the methodology and technical expertise down for early warning detection."
The research, which began in mid-January, was made possible by a $5,000 Health Sciences Research Institute (HSRI) grant. The researchers have applied for additional funding to continue their work, which is a slight deviation from the Sistrom lab's usual focus on testing wastewater for antibiotic resistance.
Vaccinations are becoming more common and even mandated at places like the University of California campuses, rendering the wastewater testing less valuable to ending the pandemic. However, the work will still prove beneficial.
"The utility for COVID-19 detection may decrease as vaccination coverage increases, but if there were to be another pathogen or a COVID variant that the vaccine can't address, we now have the protocols in place and technical expertise to implement this testing in the future," Sistrom said.