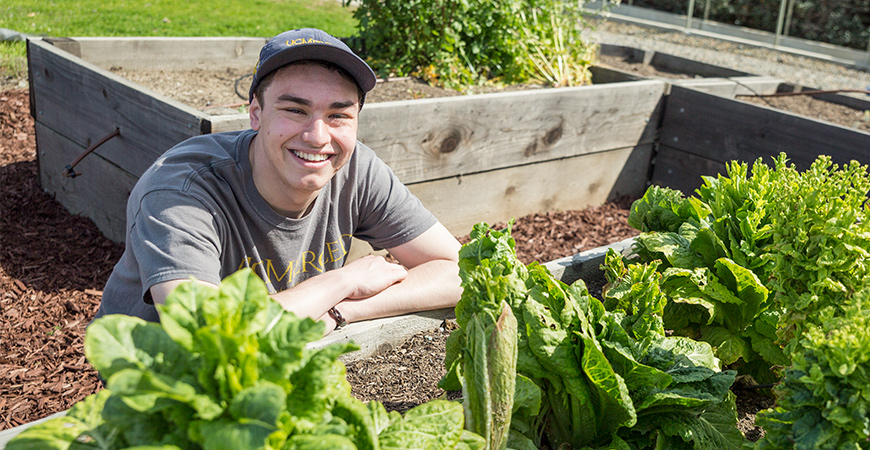 UC Merced's national reputation for sustainability continues to grow, with the Sierra Club naming the university No. 5 on its 2020 "Cool Schools" list and The Princeton Review placing it on its Green College Honor Roll.
Sierra magazine, the national publication of the Sierra Club, released its 14th annual "Cool Schools" ranking of the greenest colleges and universities on Monday, scoring UC Merced fifth out of more than 300 institutions. The placement is up from the university's No. 6 finish last year.
The university was commended for efforts to integrate sustainability into campus programs and operations and engaging students in the process. Sierra also noted the university's commitment to combat climate change through its effort to achieve carbon neutrality.
"Modeling sustainability has always been a feature of our campus, and demonstrating sustainability programs and actions that have integrated student experiential learning has not only assisted our campuswide goals, but has afforded the opportunity to establish a pipeline of students who have a depth of awareness and understanding of environmental, social and economic responsibility," said Assistant Director of Sustainability Breeana Sylvas.
Sierra also highlighted the campus's general education sustainability badge, which requires students to pursue relevant sustainability coursework or cocurricular activities to graduate. The sustainability badge spurred educational efforts such as Carson House, an environmentally themed residential community for students. The program won a California Higher Education Sustainability Best Practice Award earlier this year.
The magazine also pointed out the school's food-waste prevention program, Bobcat Eats , which has diverted more than 2 million pounds of food from the landfill through a partnership with the Merced County Food Bank.
UC Merced was one of three California schools among Sierra's top five "Cool Schools," following UC Irvine (No. 1) and Stanford University (No. 3). Other UCs among the top 30: Berkeley (No. 13); Davis (No. 18); Santa Cruz (No. 21); and Santa Barbara (No. 29).
UC Merced, the youngest UC campus, was also one of only 30 schools nationwide to receive the highest possible environmental rating on The Princeton Review Green College Honor Roll for 2021, the school's second consecutive showing. A total of 695 schools were evaluated for the list.
According to The Princeton Review, UC Merced is quickly building a name for itself as a cutting-edge research university with a focus on sustainability, and it has been a boon to the San Joaquin Valley since it opened in 2005.