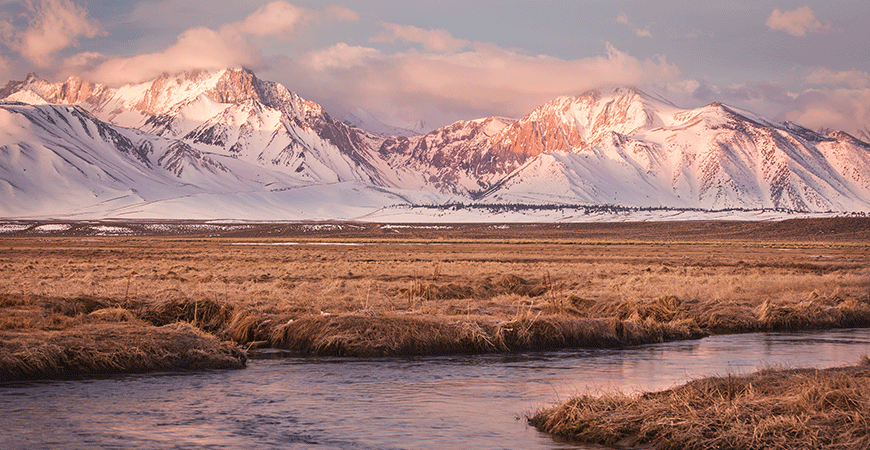 The San Joaquin Valley — with all its agriculture and the hundreds of thousands of jobs that go with it — is one of the places most at risk because of changing snowmelt patterns, a new study shows.
California is the No. 1 producer of food in the nation, and agriculture in the state is a $50 billion-a-year industry. Valley crops provide more than a third of the country's produce, including 95 percent of the fruit and nuts, and they depend on water coming from the Sierra Nevada snowpack. In fact, most of the Valley's primary crops, including grapes and nuts, get a third or more of their irrigation from snowmelt.
A new study published in Nature Climate Change indicates that about 50 percent of current runoff comes directly from Sierra snowmelt, and the Valley stands to lose between 13 percent and 50 percent of snowmelt runoff as the climate warms.
"The Valley is used to getting its snowmelt water in the late spring, and that carries us through the summer, except in drought years," said incoming UC Merced Professor John Abatzoglou, a climatologist who officially joins the Department of Management of Complex Systems on July 1. "But because of climate change, more precipitation that used to fall as snow in our mountains now falls as rain."
The annual April 1 snow-water equivalent has declined by between 10 percent and 20 percent over the past six decades. That means less snowmelt water for the hottest months of the year, leaving the Valley more reliant on water stores in reservoirs and aquifers and resulting in a profound impact on food production.
Abatzoglou is part of the team of researchers, primarily from UC Irvine, that studied how temperature increases of 2 degrees to 6 degrees Fahrenheit would change snowmelt and impact agriculture. Over the past century, California has seen about 2 degrees of warming, and without changes in policy and practice, that warming will continue, scientists agree.
The research team identified several hotspots around the globe, including the Valley and similar runoff-dependent basins in the Tibetan Plateau, Central Asia, western Russia and the southern Andes. With continued warming and reduced snowmelt runoff, upwards of 40 percent of the irrigation demand in these hotspots would need to be met by new alternative water supplies, the team wrote.
"We'll have to find intelligent, sustainable ways to find, store and allocate water," Abatzoglou said. "That might include a change in the mix of crops grown in the Valley. There has already been a shift toward almonds, but away from other water-intensive crops such as cotton and alfalfa." But it can be difficult for farmers to change because they gravitate toward crops that earn them the most money per acre, he said.
Changes in the snowpack worldwide are already well documented, the research team said.
"People are being affected in ways they don't even realize yet," Abatzoglou said. "We recalibrate 'normal' about every five to seven years."
One of the changes Valley residents notice is the lack of tule fog that blanketed the Valley every winter, contributing to road accidents but giving trees a dormancy with prolonged periods of cool temperatures that helped them produce flowers and fruit. One factor is the warming climate: As the ground has gotten drier and the winters warmer, there have been fewer foggy days.
A UC Berkeley study, which also attributes the decrease to less nitrogen oxide in the atmosphere, indicates that fog days fell 76 percent between 1980 to 2016, after the enactment of air pollution regulations.
Abatzoglou and his colleagues also have looked at the future of a few important crops in the Northwest and in California, including almonds, cherries and wine grapes. They found that continued warming will lead to more years in which many commonly grown cherry varietals in the southern San Joaquin Valley near Bakersfield will have insufficient chill for good crops.
"Absent changes in varietals of cherries planted or technological changes, this could lead to changes that ultimately impact what is planted and where the water flows," he said.
Another change people feel acutely in some years is drought. California residents are familiar with water conservation efforts, but they are becoming more familiar with water rationing and other restrictions as the climate warms. The last drought here, between 2012 and 2016, was one of the worst multi-year droughts in the past millennium. More broadly, recent work by Abatzoglou and collaborators at Columbia University published last month in Science shows that drought conditions over the past 19 years across southwestern North America, including California, were the second worst in the past 1,200 years.
"Climate change took a mediocre drought and made it the second-worst megadrought in the instrumental and tree-ring record," Abatzoglou said. "We can expect to see continued volatility in moisture, but a warming climate is stacking the deck for reduced water availability."
That's true for the other, similar, food-producing, irrigated basins the researchers studied, too.
But work like this study can help "guide future research and resources toward those agricultural communities and water management institutions that will most need to adapt to the coming changes," the researchers wrote.