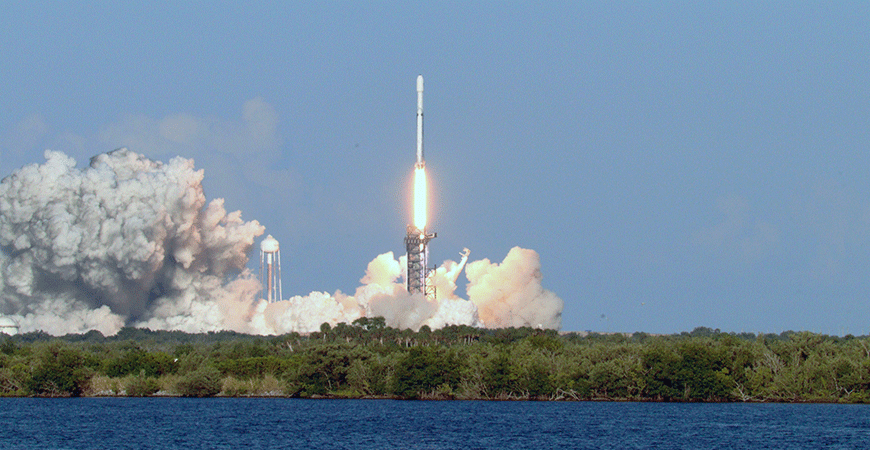 As the SPACEX Crew Dragon spacecraft left Earth today to ferry two NASA astronauts to the International Space Station, many Bobcats were watching the live stream with keen anticipation.
It's not just that the flight marks the first time a commercial aerospace company will carry humans — two NASA astronauts — into Earth's orbit. The collaborative project also has special meaning for UC Merced.
Maybe that's because the campus's education endeavors exemplify the spirit of SPACEX and NASA — boundless learning and exploration — or maybe it's because of UC Merced's direct connections to both Elon Musk's company and the federal space agency.
"The School of Engineering is proud of our relationships with NASA through research and workforce development, as well as our alumni working with SPACEX," School of Engineering Dean Mark Matsumoto said. "We've been eagerly awaiting this weekend's SPACEX launch with NASA with pride for the small part the school has played in making it a reality."
That contribution includes Jessica Anderson, who graduated in 2010 with her bachelor's in mechanical engineering. She is a lead manufacturing engineer at SPACEX and aerospace fans often see her describing the technology behind launches as they stream.
She is one of three 2010 graduates working at SPACEX, and one of hundreds of Bobcats — faculty and students — with deep and lasting connections to NASA, the Jet Propulsion Lab in Pasadena and SPACEX through research projects, internships and jobs, including three at NASA.
Another Bobcat who followed the launch is Robin Roces, a 2013 graduate who works at JPL as a mechanical engineer.
"While I did not work on any part of this launch, I've had the opportunity to work on several other Projects that will be going to space and to a different planet, so it's all Gucci," Roces said. "This launch is bringing attention to space exploration and will inspire people across the nation to bond and think of the bigger picture."
The campus-NASA link was forged in 2015, when the agency granted a group of faculty members from the School of Engineering $5 million to fund the Merced nAnomaterials Center for Energy and Sensing (MACES).
Professors Jennifer Lu, Tao Ye, Sayantani Ghosh and other founders designed the center to harness the university's strong nanomaterial-based research programs and develop a pipeline for highly qualified workers in science, technology, engineering and math (STEM).
Because all MACES-supported projects closely align with NASA space missions, they include at least one NASA researcher on the team. That close collaboration allows the students to receive guidance from NASA scientists throughout their training.
"Bringing space technology to the next level depends on STEM," said MACES Director Lu. "We are inspiring and shepherding students through the STEM pipeline to prepare them for careers in the aerospace industry."
That's especially true for women. The campus recently ranked No. 16 in the country for graduating the largest number of women — 43 percent of the campus's female graduates earn degrees in STEM fields.
Of the 120 undergrads that have been part of MACES, 75 percent are female or among other underrepresented groups, and 45 percent of the 60 graduate students that have been part of the research center are female or among other underrepresented groups.
Forty-three of the MACES students have served NASA internships. One of them, Calista Lum, was so successful at her summer internship last year that NASA paid her to spend what would have been her junior year at the agency's Langley, Va., facility to keep exploring nanomaterials that could shield space suits, ships and habitats from solar radiation. And graduate student Warren Nanney got a three-year fellowship to develop a reusable, portable biosensing device that can predict heart attacks before they occur — even aboard spacecraft.
The benefit of these NASA experiences is clear, Lu said. Most of the MACES students go on to related jobs in public or private technology industries. Many of the undergrads continue on to graduate school.
"These internships show our students that yes, they can make real contributions to NASA missions," Lu said.
Roces credits UC Merced with providing him with engineering fundamentals, and with helping "refine my thought process on how to solve problems and engineer solutions."
Among the research projects MACES has undertaken are new-materials solutions enabling high-performance, reliable, compact, lightweight energy conversion, storage and sensing devices for NASA missions. That research includes Capstone Innovation and Design Clinic student teams working on Starlight, a material with a thermal barrier so strong it can protect spacecraft from incineration during atmospheric re-entry; and a simple, efficient way of making solar cells in space , rather than having to ship them there — among many other projects.
Perhaps the research will become important to future public-private launches, as NASA has been funding Dragon spacecraft for transporting cargo. This flight is to keep the ISS fully staffed, though. The plan is for the astronauts inside Crew Dragon to ride into orbit atop a SPACEX Falcon 9 rocket. After the rocket fires the Crew Dragon into the upper atmosphere, the spacecraft will separate and launch its own thrusters to maneuver toward the space station. Crew Dragon is fully autonomous, but the astronauts will monitor the systems and keep in touch with Mission Control for the 19-hour trip.