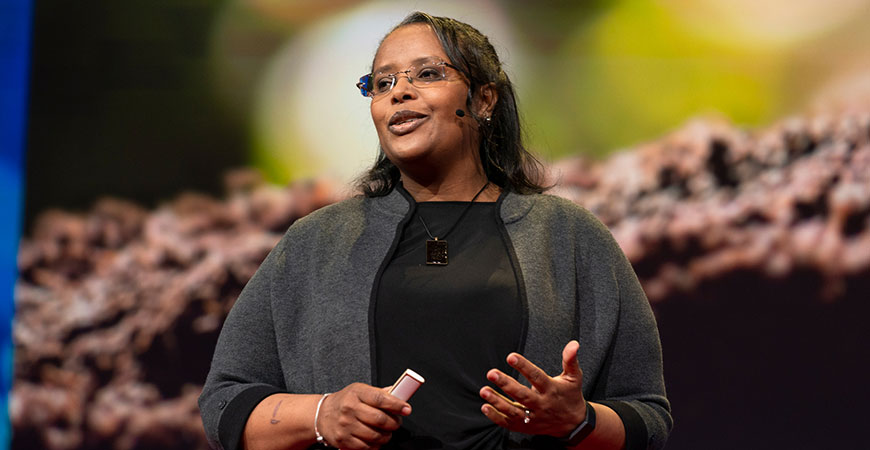 Soil biogeochemistry Professor Asmeret Asefaw Berhe has been recognized by the American Geophysical Union (AGU) as one of this year's recipients of the Joanne Simpson Medal for Mid-Career Scientists.
Two or three medals are given each year to "exceptional mid-career scientists who have made transformative scientific advances or breakthroughs in the Earth and space sciences, demonstrated strong leadership, and provided outstanding service to science and society," the AGU said.
Berhe was nominated for this honor by a group of colleagues led by Professor Kate Maher from Stanford University. She was pleasantly surprised and said she was speechless upon receiving the phone call notifying her that she won.
"This means the world to me," she said. "Not only because my colleagues took the time and energy to nominate me, but also because the larger community of scientists chose to support that nomination."
The AGU is the largest professional society for Earth scientists globally and includes more than 62,000 members spanning 144 countries. The society was founded in the early 1900s by the National Academies of the Sciences, Engineering and Medicine and focuses on four fundamental areas: atmospheric and ocean sciences; solid-earth sciences; hydrologic sciences; and space sciences.
The medal is named for Joanne Simpson, the first woman to earn a Ph.D. in meteorology. During her career, Simpson made fundamental contributions to modern research on tropical clouds and hurricanes.
As a medalist, Berhe becomes an AGU Fellow, a position to which less than 0.1 percent of the society's membership can be elected in any year. She is only the second AGU Fellow from UC Merced, the first being Distinguished Professor Roger Bales.
The award holds a special place for Berhe, who is no stranger to professional honors and recognition, because traditionally most awards focus on either early-career or senior researchers, she said. She holds the Ted and Jan Falasco Endowed Chair in Earth Sciences and Geology; was among this year's honorees by the Carnegie Corporation of New York as an extraordinary immigrant; the Randolph W. "Bill" and Cecile T. Bromery Award from the Geological Society of America; was honored as a New Voice in Science by the National Academies of Science, Engineering, and Medicine; was a Leadership Board member of the Earth Science Women's Network that won a Presidential Award for Excellence in Science, Mathematics and Engineering Mentoring; the Woman we Admire award from the UC Merced Chancellor's Advisory Committee on the Status of Women; was named an Outstanding Women Faculty Leader at UC Merced; won a National Science Foundation CAREER award; the Young Investigator Award from Sigma Xi; and a Hellman Family Foundation Award.
"Professor Berhe's research program embodies the creativity and excellence we all strive for. This award also recognizes the impact of her professional service, and I am equally grateful for her contributions to strengthening our School and campus community," School of Natural Sciences Dean Betsy Dumont said. "This award is a fitting acknowledgement of her many achievements."
Berhe is a member of the Department of Life and Environmental Sciences. Her affiliations on campus include the nationally ranked Environmental Systems Graduate Group and the Sierra Nevada Research Institute.
In nominating her, Berhe's colleagues highlighted her work that improved understanding of the dynamics of organic matter in soil systems, in particular in systems that experience rapid changes as a result of fire, erosion and climate change; and her prolific publication record. Berhe served on the National Academies' committee on soil science — a group she chaired for three years. They also pointed to her frequent invited speakerships, including delivering a TEDTalk on soil at last year's annual TED conference; and her leadership in promoting the inclusion of women and minoritized populations in science and academia. She is a member of several organized efforts to address harassment, bias, abuse and discrimination in academia — work that is extremely important to her.
Berhe said that in large part, she owes her professional successes to the dynamic group of early-career scholars and colleagues she is fortunate to work with at UC Merced and beyond; her network of mentors and friends who are also her peer-mentors; and her family members who continue to be supportive and inspirational role models for her.