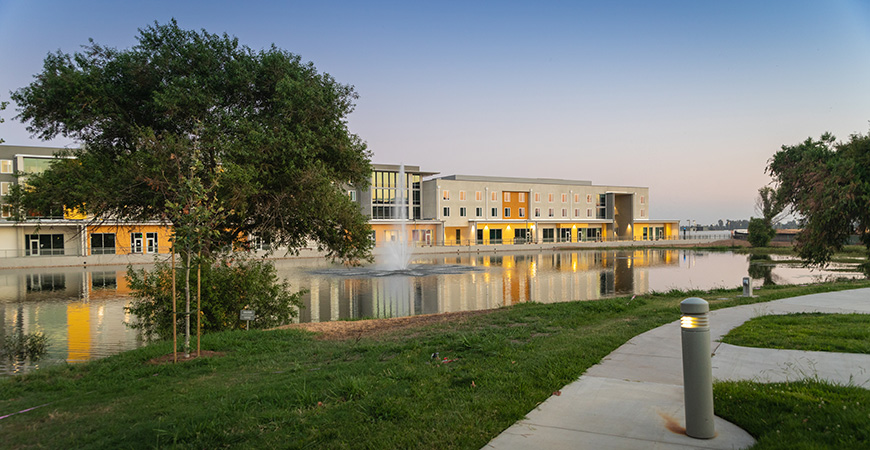 UC Merced has been named one of the best schools for environmental sustainability and quality of campus life, placing 20th on The Princeton Review's list of top 50 "green colleges."
Nearly 700 schools with strong commitments to green practices and programs were evaluated for the list, published Oct. 22. Criteria included how well each prepares students for green careers; whether a school's policies are environmentally responsible; and whether the quality of student life on campus is healthy and sustainable. Among California campuses, UC Merced ranked third, following Stanford (No. 10) and UC Berkeley (No. 14).
"We are pleased the campus has received this recognition for its demonstrated leadership in sustainability efforts, much of which supports our students through opportunities and programs that increase their awareness and knowledge of sustainability, and position them to become industry and field leaders," said Breeana Sylvas, assistant director of the Office of Sustainability.
UC Merced also joined 25 other universities named to the Princeton Review's Green College Honor Roll. These accolades follow news that UC Merced's Granite Pass residence hall building is the first structure in the 2020 campus expansion project to receive LEED platinum certification, the highest possible rating for environmentally conscious design.
The mixed-use facility was awarded the designation in September following a certification program that awards points based on the building's environmental performance. Granite Pass' sustainable features include energy-efficient mechanical and electrical systems, water-efficient fixtures and building materials that are environmentally friendly.
"Platinum certification for our 2020 buildings is truly remarkable for this project," said Mark Maxwell, director of Sustainability. "The 2020 project only required gold certifications for all buildings. After working with the 2020 team to include campus-wide site credits such as renewable energy from our solar arrays and campus-wide storm water system, which collects 100 percent of our storm water, we were able to push this project and, most likely, the rest of the 2020 buildings, to platinum certification."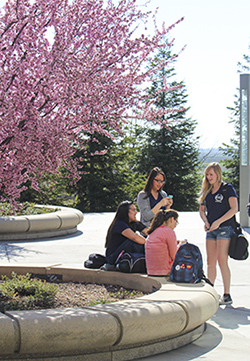 UC Merced is a leader in green building, the practice of designing, constructing and operating buildings to minimize the use of resources and negative impacts on the environment. LEED, or Leadership in Energy and Environmental Design, is the most widely used green building rating system in the world, according to the nonprofit U.S. Green Building Council.
The platinum certification comes as UC Merced is bringing 13 new buildings online as part of the three-phase Merced 2020 Project, with every building being on pace for LEED certification.
Located south of Little Lake, Granite Pass provides undergraduate residential housing as well as meeting spaces and classrooms. Granite Pass was part of the first phase that opened in fall 2018. Phase two of the campus expansion opened in August and a third phase is set to open in 2020.
The honors are the latest in a string of sustainability related awards for the university. Last month, UC Merced was ranked No. 6 on the Sierra Club's 2019 "Cool Schools" list of 282 schools nationwide. In addition, it was ranked No. 1 by the Association for the Advancement of Sustainability in Higher Education (AASHE) as having the most sustainable buildings in higher education throughout the world. The university also tied for first in sustainability research in AASHE's Sustainable Campus Index released in August, and will be represented at the AASHE Conference in Spokane, Wash., later this month to receive the Campus Sustainability Achievement Award for its Bobcat Eats Food Waste Awareness and Prevention Program.