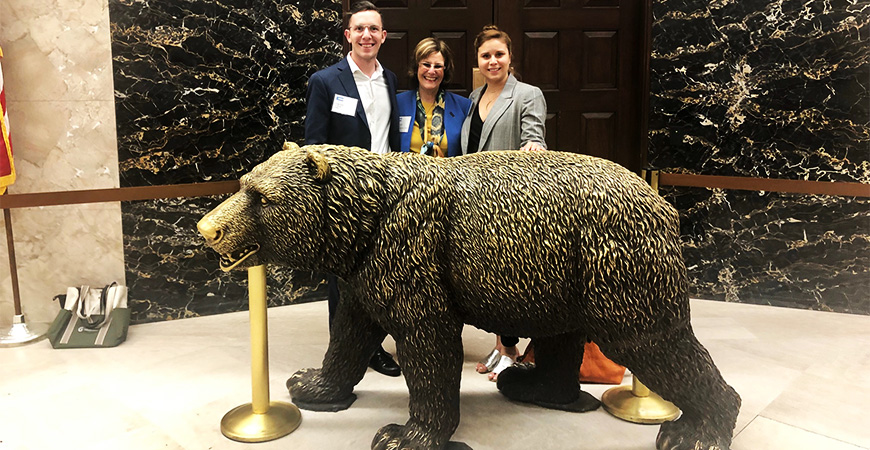 Two UC Merced Ph.D. students took to the State Capitol yesterday with representatives from the other UC campuses to advocate for the importance of the research being done across California.
Craig Ennis and Vicky Espinoza were accompanied by Vice Provost and Graduate Dean Marjorie Zatz to meet with state leaders during the UC's 10th annual Graduate Research Advocacy Day. They met with assembly members Frank Bigelow (R-Madera) and Rudy Salas Jr. (D-Bakersfield) and Senator Andreas Borgeas (R-Fresno), as well as representatives from the offices of assembly members Heath Flora (R-Ripon), Joaquin Arambula (D-Delano) and Adam Gray (D-Merced) and senators Anna Caballero (D-Merced) and Melissa Hurtado (D-Sanger).
"It was exciting to share some of the great things we are doing at UC Merced and get the university's name out there," said Ennis, a third-year Ph.D. student in Quantitative and Systems Biology. "The opportunity to represent our nearly 700 graduate students and their research was incredible."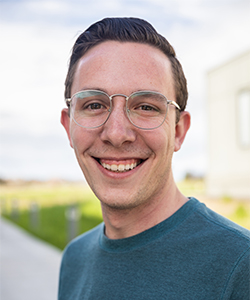 In Sacramento, the Burbank native discussed the importance of his dissertation research on biofilms — microbial communities that stick to surfaces. Think grime that builds up in a toilet bowl, scum on the top of a lake or plaque on teeth.
"You brush your teeth every morning and night; you do that to get rid of the biofilm that's growing on your teeth," Ennis said. "If you aren't diligent with your brushing, it can lead to tooth decay, tooth loss and infection."
Ennis was drawn to biofilms because the infections they cause are often resistant to drug treatment. The National Institutes of Health estimates that 80 percent of infections are caused by biofilms, so they can pose huge health risks.
"Once you have a biofilm infection, it is very difficult for your immune system to clear it and for it to be treated with a drug," he said. "My research seeks to better understand the resistance properties of fungal biofilms."
Ennis explained there are other risks to consider.
"In agriculture, biofilms also pose a serious issue because they clog waterways that supply water to livestock and reservoirs, which then can infect livestock," he said.
Ennis earned bachelor's degrees in biological sciences and psychology from UC Merced in 2016. As an undergraduate, he worked in microbiology Professor Clarissa Nobile's lab and continues his graduate research there.
"I'm honored to share the importance of my research and create a greater understanding of the problems at hand and help find ways to solve these issues," he said.
I'm honored to share the importance of my research and create a greater understanding of the problems at hand and help find ways to solve these issues.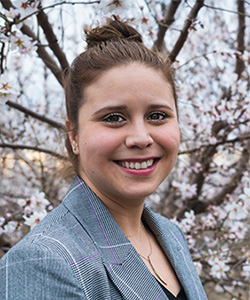 Espinoza, a second-year Ph.D. student in Environmental Systems in engineering Professor Joshua Viers' lab, researches water management and its implications on global food security. She focuses on the San Joaquin Valley, including 255 identified disadvantaged communities, where more than 10 percent of agriculture land is slated to be removed from production within the next 10 years to sustain water resources under the Sustainable Groundwater Management Act.
"My research offers insight into how to sustain California's food, energy and water systems, at a broader scale, not just California but global food and water security," said Espinoza, who earned a bachelor's degree in geophysical sciences from the University of Chicago and Master of Science in Environmental Engineering at the University of Southern California. "The difficult task is determining where this land will go out of production. My research aims to provide a vision for strategizing how and where to retire large blocks of land and suggest alternative land uses that will minimize impacts to agricultural communities."
Espinoza was involved in writing the San Joaquin Valley section of the Fourth California Climate Change Assessment, which was presented at last year's 2018 Global Climate Action Summit.
For the Los Angeles native, sitting down with lawmakers during Graduate Research Advocacy Day was another important step in furthering understanding of the issues.
"It's important to communicate to stakeholders at the state level about the disparities in agriculture," Espinoza said. "There isn't too much insight on how the retirement of this land will impact communities, so it's important for them to be aware of how the decisions could affect communities and land use."
Immediately after the advocacy day, Espinoza headed to Washington, D.C., to talk to more policy makers and stakeholders at the Chicago Council on Global Affairs' Global Food Security Symposium about her research.
"It's a group effort; there needs to be collaboration and communication for this to be successful," she said. "Land retirement impacts many people, but hopefully by working with farmers, groundwater-sustainability agencies and disadvantaged communities, we can find a balance and solve this issue together."