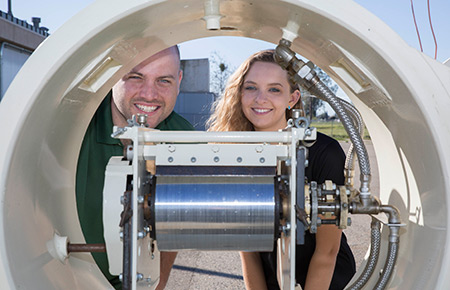 Researchers at UC Solar have developed and tested an innovative solar thermal-powered process for turning the pomace, or byproduct, of vegetable and fruit processing into reusable products, potentially lowering food-processing plant costs and reducing their carbon footprints.
With collaborators at the U.S. Department of Agriculture – Agricultural Research Service (USDA-ARS), UC Merced graduate student Jonathan Ferry and UC Solar Director Professor Roland Winston tested and optimized a solar-powered drum dryer for use in food-processing applications.
Drum dryers are widely used in paper and food production outside California. The dryers typically work by pumping steam to heat a rotating steel drum. A stream of pureed food is dripped onto the drum, creating an ultra-thin, dehydrated layer of the food that is scraped off for later use. Common products made this way, such as milk powder and instant mashed potatoes, are shelf-stable and lightweight.
But produce-processing plants create hundreds of gallons of pomace in the form of heavy purees each day as they juice and otherwise process fruits and vegetables. Food processors can sell or give away the raw pomace to local farms and dairies. That avoids the landfill but has some disadvantages of its own: The pomace is only available a few months each year during processing season; raw pomace can mold if it is stored for more than a few days; and it's expensive and bad for the environment to haul the heavy, wet pomace by truck.
Solar-thermal drum drying addresses all these issues, collaborators said.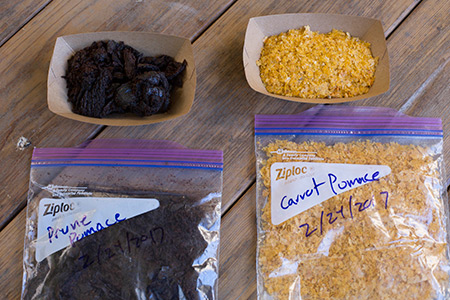 UC Solar's two-drum dryer — run on solar thermal power — presses the pomace into thin dehydrated sheets and at the very least, saves processing plants space and the cost of removing the heavy byproduct by turning it into a much lighter substance.
At best, the dryer can transform pomace into human-grade food.
"We had great success with a lot of the samples. Prune pomace came out looking like shaved chocolate, and the carrot pomace was still sweet," Ferry said. "There is a lot of nutrition in pomaces. They are made up of the seeds, skins and other fibrous parts of the fruit or vegetable."
The USDA-ARS collaborators bought a small-scale drum dryer for UC Solar and supplied samples of different industrially-produced pomaces and purees from prunes, tomatoes, carrots and strawberries to see what Ferry and Winston could do.
The researchers tested the pomaces on a flat plate first to optimize temperatures and drying times. They integrated the drum dryers with Winston's XCPC solar collectors, which use a heat-transferring oil instead of steam and don't require solar tracking to gather heat.
Part of adapting the drum to the solar collectors included testing surface temperatures, because the XCPC generates heat in excess of 200 Celsius, or nearly 400 degrees Fahrenheit.
"We had to cover part of the collector, because it was just too hot," Ferry said.
Ferry and Winston gathered statistical data for all the samples, which are now being analyzed by the USDA-ARS.
"The technology developed in this project gives fruit and vegetable processors another option for upgrading their discard streams into revenue-producing streams. Even better, because all the heat needed for the drum dryer is supplied by the sun, the process can be implemented without generating any additional greenhouse gases," said Project Director Dr. Rebecca Milczarek with the USDA-ARS. "I have enjoyed working with the UC Solar folks on this interdisciplinary team project. The technical expertise in the two labs is quite complementary. My lab is excited to see tried-and-true — but heat-intensive — food-processing technology being powered by cutting-edge green energy."
While the research team will have to analyze costs and conduct many more tests before it can advocate for widespread industry use, UC Solar has achieved its goal.
"We wanted to show that solar thermal can be an effective way to power a drum drying system, and we did that," Ferry said. "This could be a great inroad for solar into the food processing industry, and it's also a great way to process the fruit and vegetable pomace that would otherwise have little value."