Water is a delicate balancing act in California. When the scales tip in the wrong direction, the consequences can have national effects. Nobody knows this better than UC Water Co-Director Joshua Viers.
"More than half of the nation's fruits, nuts and vegetables are grown in California's San Joaquin Valley," he said. "The problem is that the state has historically relied heavily on groundwater for agricultural irrigation, and we haven't done a good job of recharging it."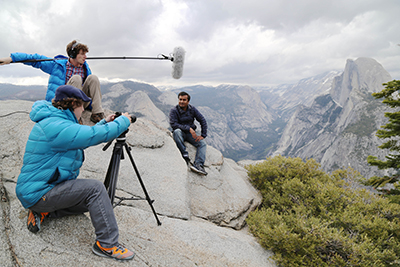 UC Water is a multicampus research initiative with the goal of using technology to create a comprehensive understanding of California's complex water system. It's also the subject of "Water in the Balance," the first in a series of videos to be broadcast on UCTV's newest channel, Sustainable California.
The video premiers today (May 5) and features Viers, Professor Martha Conklin and research scientist Mohammad Safeeq, all from UC Merced's School of Engineering and Sierra Nevada Research Institute. It takes viewers on a 5-minute journey through state's water system, from the Sierra Nevada snowpack to the state's system of manmade dams and levees to the groundwater in the Valley.
UC Water, headquartered at UC Merced, includes 42 researchers who are working to develop more accurate ways of measuring the amount of water in the state's system, improving its management and increasing the understanding of how it's extracted, conveyed and stored in both built and natural infrastructure.
"It's not about more data," Viers said. "It's about better data informing better decisions."
UC Merced is leading the Sustainable California channel, which will broadcast stories of sustainability research and outreach conducted by University of California faculty, scientists and students. Project partners include UC Agriculture and Natural Resources and CITRIS and the Banatao Institute. 
The channel's content is appropriate for audiences of all ages and freely accessible to the public online. The integrated video, article and curriculum format of the channel, in addition to its focus on biodiversity, natural resources and low-impact living, make it valuable resource for educators and media outlets.
Viewers can subscribe to the channel on UCTV and YouTube, and stay updated on new releases and related research via Twitter.