One of the most stunning sights in Yosemite National Park has nothing to do with granite. It's the night sky, Milky Way and all.
But light pollution within the park can diminish that experience for visitors as well as change the circadian rhythms of flora and fauna.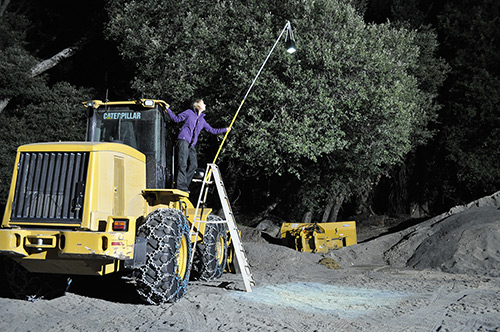 UC Merced graduate student Melissa Ricketts has found an answer. And she's turning one of her mentor's inventions on its head to do it.
Ricketts is a member of Professor Roland Winston's lab at UC Solar, a multicampus research institute headquartered at UC Merced. Winston is the inventor of nonimaging optics, and his compound parabolic concentrator (CPC) is a key piece of solar-collecting equipment in the emerging solar energy industry. But Ricketts is interested in optics-based lighting, and has come up with a way to use the CPC to emit light, rather than gather it.
"It's the reverse of the solar collector," Ricketts said. "We can make a perfect square of LED light, or circle, or whatever shape works best to illuminate only what needs to be illuminated. I call it 'prescribed irradiance distribution.'"
UC Merced staff member Steve Shackelton, former Yosemite chief ranger, heard about Ricketts' interest in optics-based lighting, and brought her a dilemma to solve. While lighting is restricted in Yosemite, certain areas in the park require artificial lighting, such as pathways between buildings, parking lots and equipment that might need to be used at a moment's notice.
"Managing escaped light to protect natural darkness and the beautiful starscapes over parks is a challenge that has been looking for a technological solution not only in American national parks and protected areas, but in parks around the world," Shackelton said. "It's important to put light precisely where we want it for the safety and security of visitors and staff."
"People want to feel safe while walking between the parking lot and the lodge, or on the walking paths," Ricketts said. "But the lights there now illuminate far more than the necessary areas. It's disruptive."
Some of the lighting now used is strong, but diffuse — one light in particular, near an equipment storage facility, actually lights up part of the face of Yosemite Falls at night, Ricketts said.
Working with a modest UC Solar budget, she designs her nonimaging devices on the computer, prints them on the UC Solar group's state-of-the-art 3-D printer, applies a reflective coating and assembles the pieces. By attaching a reflective surface on the CPC, she can focus light similar to the way car headlights do. Fellow student John Ferry, the group's 3-D expert, assists with fabrication.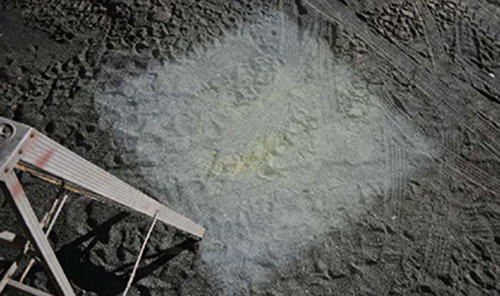 Ricketts and Shackelton have been working on what they call "The Sand Pile Project." Most of the work is performed in the lab, and occasionally designs are tested in the park on a large pile of sand that snowplow operators use to spread on the park roads. It's important to keep the sand illuminated so it can be readily accessed, but that should be done with minimum effects on the surrounding areas.
Yosemite is cautious about introducing new technology into the park, Shackelton said, wanting to balance best practices with maintaining the smallest human footprint possible. But the park, under the utilities branch Chief Paul Laymon, has been extraordinarily supportive of Ricketts' research toward managing light, letting her use Yosemite as a test where her work could have global implications for wildlife and visitors alike.
"We're hoping to show the park we can eliminate the unnecessary light," Ricketts said. She hopes to get a group of people and some funding together to make the project viable for the whole park — and other parks, as well.
Although much of the work at UC Solar fits into the School of Engineering, Merced native Ricketts was intent on completing her Ph.D. in physics. She worked with both Winston, who is both an engineer and a physicist, and physics Professor Linda Hirst as an undergraduate, and stayed on to continue working with Winston.
That's part of why this project appeals to her — it combines both disciplines and her love of nature. She started the project at the beginning of the year, and will incorporate what's she's learning into her dissertation, which she plans to defend next spring.
"Through her participation in the annual International Society for Optics and Photonics Nonimaging Optics conference in San Diego, she has become known in the lighting community and has started to receive attractive job offers," Winston said. "Now she just has to defend her dissertation and graduate."