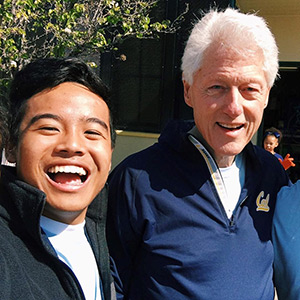 Besides attending Clinton Global Initiative University (CGI U) with 1,200 other college students from around the world, UC Merced student Hoaithi Dang helped his team win the weekend's "Code for Impact" event in partnership with the Clinton Health Matters Initiative.
The ninth annual CGI U meeting brought student leaders together with experts, entrepreneurs and civically engaged celebrities to talk about issues of global concern and make "Commitments to Action" to address this generation's most pressing challenges.
In the lead-up to the CGI U meeting, which took place March 31 and April 1, students had the opportunity to participate in a two-day coding event nicknamed the "Codeathon." They were challenged to build original prototypes to promote emotional wellness on campus. Two teams emerged the winners, including the Be Well Team, of which Dang was a member.
In 36 hours, the six-member team developed a mobile platform called Be Well that enables users to reflect on their emotional well-being at any moment and interact with others in the same emotional state. The application addresses the problem of isolation by using a platform centered on creating authentic human interactions.
"We've all had the feeling of being isolated," Dang said. "This is a way of engaging with others who feel like you do."
Be Well would allow users a range of engagement, from anonymously to participating in meet-up groups in safe, public places.
The app also offers voice journaling to help users understand how they are feeling and track patters; resources for those who want them; and a voice analysis that helps them find the right group of people to connect with.
Winning means publicity for the team and recognition at the event's closing ceremonies.
In addition to the Codeathon, Dang and fellow UC Merced student attendees Adrianna Gomez and Gabriel Morabe networked with student leaders and experts, entrepreneurs and civically engaged celebrities talk about and make commitments to action on education, poverty alleviation, peace and human rights, public health, and the environment and climate change.
"It was an amazing experience," Dang said. "Once in a lifetime."