UC Merced Professor Gerardo Diaz is developing solar-powered water heating technology that could reduce the demand for natural gas in businesses and homes and lower the costs for business and homeowners.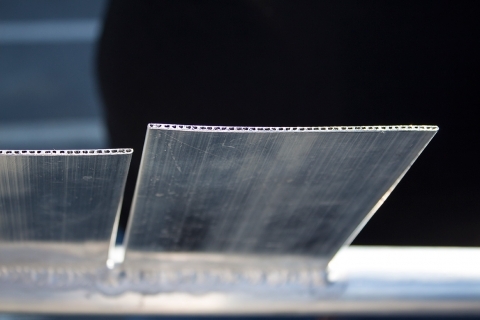 Mini channel technology could help address some of the state's energy needs.
Soon he'll be putting that technology to the test in Southern California.
Through a nearly $1 million contract with the California Energy Commission, Diaz will build and install his technology in residential and commercial buildings near Aliso Canyon — where last fall's enormous methane leak caused so many problems.
Aliso Canyon is an area with heavy energy demands and aging infrastructure, and Diaz — a researcher in UC Merced's School of EngineeringOpens a New Window.  and the UC Advanced Solar Technologies Institute (UC Solar)Opens a New Window.  — believes solar could be a big part of the solution.
"The solar water-heater technology can enhance the energy sector," he said. "We've already shown that we can have a high-performing solar collector at a lower cost. Now we need to see whether it can help us use less natural gas."
Professor Gerardo Diaz and student Azucena Robles show one piece of a mini channel panel.
Diaz and his students adapted mini-channel technology — which is commonly used in the automotive, aerospace and air conditioning industries — to create the next generation of solar-collecting units. Tiny tubes made of aluminum or copper are placed next to each other to create a larger collector that uses a special coating to heat fluid passing through the channels.
Diaz will build a residential demonstration project using aluminum, which costs less than the copper used in traditional solar water heaters. Even though the aluminum conducts less heat than copper, the mini-channel networks create more contact surface area to improve the collection of sunlight, making up the difference. The aluminum devices can heat water to about 130 degrees. 
He will also apply mini-channel technology to high-thermal-performing copper for use in higher-temperature applications in commercial or industrial facilities, heating liquid to better than 240 degrees and generating steam.
Each site will be heavily instrumented, and hot water production will be monitored for at least a year, including feedback from building occupants.
Diaz and his students are working with former UC Merced Professor Carlos Coimbra, whose lab at UC San Diego will conduct the analysis to detail the best places in California to install the mini-channel technology with the highest potential for reducing natural gas demand.
UC Merced was chosen for the project because of the promising results of previous work on mini-channel solar water heating, said Laurie ten Hope, deputy director for the commission's Energy Research and Development Division. That work showed the technology increased the thermal efficiency of solar collectors by 10 percent over copper tube collectors and cost 33 percent less than conventional solar water heating systems.
"Residential water heating uses about 42 percent of the natural gas consumed in California," ten Hope said. "This mini-channel technology has the potential to substantially reduce costs and could be an effective alternative to using natural gas for hot water heating."
Earlier this year, after the methane leak at the Aliso Canyon underground natural gas storage facility, state and local energy agencies released a plan to help preserve the reliability of electrical service during the summer in the greater Los Angeles area.
Aliso Canyon is prohibited from injecting and storing more gas until a comprehensive safety review is completed and the facility's wells are deemed safe or removed from service. The plan concluded that Aliso Canyon plays an essential role in maintaining natural gas and electric reliability in the Los Angeles area, but limited operations could cause disruptions in service and supplies during the summer and winter.
Diaz hopes his technology can provide some answers. Planning for the test site projects has already begun, and the installation could start this fall.
"Depending on the research results, it is possible the technology could be included in future incentives and/or regulations," ten Hope said.