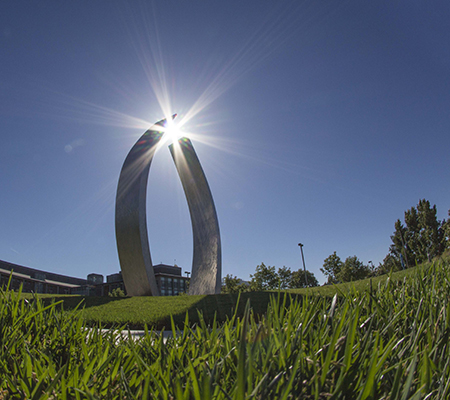 The UC Merced campus is getting greener and earning gold as it does — gold ratings, that is.
UC Merced improved its rating through the Association for the Advancement of Sustainability in Higher Education's Sustainability Tracking, Assessment & Rating System (STARS), a rigorous review process that takes the better part of a year to complete, but makes the campus eligible for other popular sustainability ranking lists like the Princeton Review's Green Colleges and Sierra Club's Cool Schools.
"We improved from silver to gold, and we intend to meet the platinum rating by 2020," campus Sustainability Director Colleen McCormick said. "We want to be the first UC campus to do so."
So far, only one university in the country has met the platinum standard —Colorado State University — but UC Merced is only about 19 points away.
STARS provides a framework for understanding sustainability across all sectors of higher education. Detailed reports must be filed for each of four categories: academics, engagement, operations, and planning and administration.
Because the campus has been designed to be sustainable in most every aspect, attaining platinum status is a reasonable goal, McCormick said.
"We embrace sustainability throughout the campus, from curriculum and research to transportation and construction," Strategic Facilities Planning Senior Analyst Breeana Sylvas said. "By using STARS, we can track all of our sustainable practices."
UC Merced's green efforts have earned it more than 25 state and national awards for environmental sustainability and design. Every building project on campus has earned the U.S. Green Building Council's Leadership in Energy and Environmental Design (LEED) certification.
STARS enables comparisons over time and across institutions using a common set of measurements. Each documentable component of the review earns points and identifies opportunities for improvement and strategic planning.
For example, McCormick said, the sustainability curriculum could be expanded through the creation of living-laboratory opportunities. There have been new additions, including the LEED Lab class, in which students conduct a sustainability audit of campus buildings operations and maintenance and, through the class, become eligible to sit for the U.S. Green Building Council's LEED Green Associate and Accredited Professional credential exams. But more classes and projects help students learn how comprehensive sustainability efforts can be, she said.
More than 750 institutions on six continents use the STARS reporting tool, and the results are available to anyone who wants to see them online.
McCormick and Sylvas are working on a strategic plan for future projects and initiatives the campus can undertake to bring its score up even higher, including developing a campuswide sustainability database for more efficient data collection.
"There are just so many aspects of our sustainability practices, it's challenging to keep track of everything," McCormick said. "Perhaps that, too, could be a student project that would earn us more points."