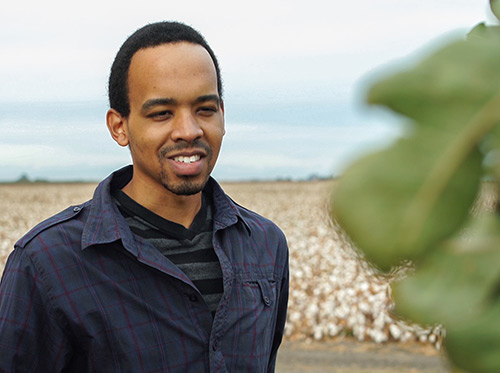 UC Merced graduate student Lorenzo Booth's research into more efficient use of water for agriculture has earned him accolades from the American Water Resources Association for not only producing information, but presenting solutions.
"If we can make the process of growing food more efficient and sustainable," that's a good thing," Booth said.
At UC Merced, Booth discovered he's a pretty good programmer, and used his skills to build a computer program that compares water usage for different crops in different locations.
He demonstrated his work at a recent conference with a poster titled "Improved Agricultural Water Use Accounting Through Water Footprinting." The association named him the best student poster presenter.
"When I started my studies in environmental engineering, I was interested in air quality, but I got drawn into remote sensing and water availability through my undergraduate research," said Booth, a master's candidate who earned his bachelor's degree at UC Merced in 2015. "It's a topic that hits close to home, but it's also a pressing issue worldwide."
Booth's research is supported by the UC Water Security and Sustainability Research Initiative, headquartered at UC Merced, and works with his graduate advisor, UC Water codirector Professor Joshua Viers, who's with the School of Engineering. It's also another example of UC graduate students making a difference in the world around them. Water information is one of the key areas where the Merced campus is emerging as a leader.
"Lorenzo is precisely the type of student we welcome to UC Merced. He is bright, he is enterprising and he is poised to transform our thinking about how to sustain the San Joaquin Valley at the food-energy-water nexus," Viers said.
Booth, who is from Los Angeles and specializes in water resources and open-source geographic information system tools, said attending UC Merced has expanded his understanding of critical issues like water availability.
Through water footprinting — using a variety of tools to look at water consumption per unit of product — Booth can show how crop choices affect the amount of surface water or groundwater used for irrigation, which is information farmers can use to make their operations more efficient and less costly while promoting more equitable use of scarce supplies.
Researchers are interested in the effects of climate warming on many subjects, including agriculture, as well as in providing real-time information for farmers, resource managers and policy makers.
Booth's modeling uses massive, detailed climate data sets about air temperature, precipitation and solar irradiance to better understand how water is lost through plants' evapotranspiration in relation to where they are grown.
That presents a challenge, Booth said, because people are not required to report what is being grown where.
"You can make some educated guesses based on pesticide use — which does have to be reported — but we also use satellites and surveys to gather the information," he said.
He has seen a switch from row crops, such as lettuce and corn, to perennial crops — such as orchards and vineyards, which provide farmers little flexibility in meeting irrigation demand year-to-year because of California's highly variable climate.
This is a new focus for farmers as water becomes an increasingly expensive and scarce resource.
"If water is plentiful or inexpensive, then no one cares," Booth said. "If water is scarce, that's when you are really going to want to optimize decisions on where and what to grow."
His work includes some of the state's biggest water users, including feed crops, grain, rice, and certain fruit and nuts, but it has implications throughout the agricultural industry.
"An agricultural footprint assessment tool can serve as a framework to guide efforts beyond the consumptive use of fresh water," Booth wrote on his poster.
He is focused on finishing an open-source interactive tool for water footprinting to inform agricultural planning, especially in the San Joaquin valley, before he graduates.
After graduation, he said, he'd like to work on improving environmental policies, perhaps helping a state or federal agency like the Environmental Protection Agency (EPA) improve its use of digital information so that decisions are better informed by data.
"Someday I'd like to be the head of the EPA," he said.