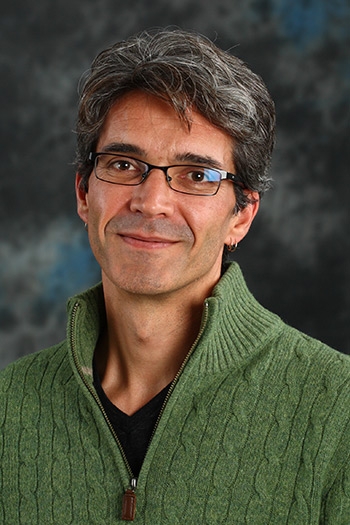 Biodiversity Professor Michael Dawson has been named UC Merced's inaugural Faculty Climate Action Champion by the UC Office of the President (UCOP).
Dawson's work and his plan, which formed a proposal for a project to engage the campus and community in sustainability, earned him the title and $25,000 to fund a research project in the 2015-16 academic year. UCOP recently announced its first Faculty Climate Action Champions, with one selection from each UC campus.
Through the award, Dawson, with the School of Natural Sciences, hopes to leverage people's familiarity with "lines."
"Lines are a fundamental part of the way people think," he wrote in his proposal. "We recognize shorelines, tree lines and skylines. Lines are boundaries and divisions — limits and things that delineate — or connections, such as lines of sight, lines of communication or a line from point A to point B.
"Central to the representation of how climate changes the natural world are the lines we draw on maps." Those include species boundaries, which are changeable too.
For example, he said, "Merced is at a place that was under the Pacific Ocean for the majority of its geological history, and was an ancient shoreline 1-2 million years ago. Species that lived in that ocean can now be found as fossils in Merced County."
By building collaborations in which people from the campus and community explore the concepts of lines and change, he hopes to build figurative and literal understanding of change and sustainability. 
Some scientists say the current epoch, known as the anthropocene, is likely to include Earth's sixth mass extinction because of climate change.
But with a variety of people contributing their thoughts, perspectives and knowledge on the surroundings in which we exist, Dawson hopes we will better understand how environments and species change over time and how we got to where we are. That will lead to discussions of where we are going and possibly how to limit, mitigate and undo detrimental environmental perturbations.
The first educational opportunity comes in February in a series of sustainability-themed "lightning talks" on campus. Scheduled for Wednesday lunchtimes beginning in mid-February, the talks will feature representatives from throughout campus describing their current work and their hopes for sustainability on campus and beyond.
As the year goes on, the project will explore sites where data and specimens can be seen and gathered, and offer workshops, discussions, meetings and presentations where people can share information and learn more about biodiversity and climate change.
A lot of information can be gained from specimens that can be found around the region, including history, modern distribution and future situations, using genomic analyses and modeling responses to climate change, which is the intent of the planned research.
"We'll look at the fossil beds and the fauna, and talk about how climate change prompts movement," Dawson said. "It's about helping people make connections between places and times, and helping them see that they are part of something that is essential to humanity."
Through UCOP, a yearlong climate-action award is given to one faculty member on each campus, with the goal of promoting faculty leadership in scholarship, teaching and community engagement about climate-action solutions. Each campus selects a faculty champion after soliciting proposals. Dawson's was one of six ideas the UC Merced committee considered.
The champion awards are part of UCOP's initiatives to lead the way in sustainability in the state and the nation.
"We are a very green campus, but we need to work harder at educating and engaging people in sustainability," Dawson said. "We need to be better at communicating why it is relevant and how we can bequeath a better world."