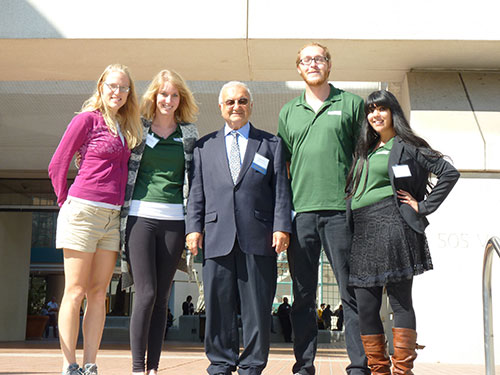 Four students from diverse disciplines have been named Dan David Solar Fellows through the University of California Advanced Solar Technologies Institute (UC Solar), headquartered at UC Merced.
The fellowship began in 2007 through a generous gift from Sarah R. Kurtz, principal scientist in the National Center for Photovoltaics at the U.S. Department of Energy's National Renewable Energy Lab (NREL). Kurtz established the fellowship in the name of the Dan David Foundation, which awarded her and NREL colleague Jerry Olson that year's prestigious Dan David Prize for their groundbreaking work in concentrating solar power systems using multi-junction solar cells.
The Dan David Solar Fellowship, which exists in perpetuity, supports undergraduate and graduate students working in the area of solar energy and concentrating photovoltaic devices and systems. Applicants had to apply for the fellowship, and the applications were reviewed by a panel of solar energy experts. For the 2015-16 academic year, each of the four awardees will receive $2,000.
This year's recipients are:
Christine Hoffman, a graduate student who studies applied mathematics, hopes to become a research mathematician. The fellowship enables her to focus on developing an improved luminescent solar concentrator (LSC) light-propagation model. LSCs, or solar windows, can be integrated into buildings and vehicles.
Melissa Ricketts, a physics student, received her undergraduate degree at UC Merced and is continuing her graduate studies with the UC Solar group. She is interested in the optical design of LED illumination systems and concentrating photovoltaic systems. Part of her LED research takes place in Yosemite National Park. This fellowship will enable her to further study free-form and nonimaging optical design to develop more efficient and cost-effective concentrating solar panels.
Bennett Widyolar is a graduate student who has worked with UC Solar for several years. He earned both his undergraduate and master's degrees from UC Merced and is continuing his graduate studies with UC Solar, as well as being part of the Environmental Systems graduate group. Widyolar has already attracted notice by installing solar-energy systems in Mongolia, including the U.S. Embassy in Ulaanbaatar. The fellowship enables him to continue his work on high-concentration concentrating photovoltaic systems using multi-junction cells.
Benaz Colabewala is a graduate student who studies physics and has a background in the study of organic solar cells. She is interested in fabricating solar cells and devices. The fellowship allows her to continue her work on novel designs in concentrated photovoltaics and concentrator selective coatings.
"All four recipients are outstanding students with very bright futures," UC Solar Director Roland Winston said. "We're proud to have them as members of the UC Solar team."