Four months into the reporting period for Gov. Jerry Brown's water-reduction mandate, and UC Merced has so far exceeded the goal.
Now it needs the campus community's help.
The campus, which constructed all of its buildings to be 40 percent more efficient than state requirements, has so far been able to trim another 25 percent of its water consumption from the baseline year of 2013, despite the addition of two new buildings and 1,000 more students since then.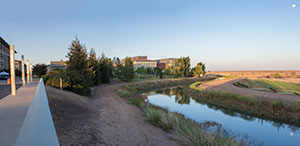 Like everyone with water meters, the campus must keep track of usage for the nine-month period between June and February. So far, UC Merced has saved slightly more than the required 25 percent, mainly through changes to landscaping.
The campus conserved a lot of water during the summer, but with students back on campus, the numbers are less predictable. That's why Facilities Management and Sustainability are looking to on-campus users to help UC Merced continue meeting the requirements.
Each year, on-campus residents take part in a water conservation battle. This year's contest was moved from the fall to the spring, but conserving water needs to be a year-round effort.
"A lot of our students are new and not necessarily from around here, so they might not be familiar with the water issues, especially in the San Joaquin Valley," campus energy Manager Varick Erickson said.
"We really need to build on the conservation culture that already exists among our students," Facilities Management's Energy and Sustainability Director Zuhair Mased said. "At this point, we are going to have to rely on people's behaviors to meet the governor's mandate."
In response to Brown's charge, Facilities, Housing, Recreation and Athletics, and Transportation and Parking Services have held weekly meetings to plan and implement strategies to reduce water use on campus. Facilities also created a website for real-time monitoring and tracking water usage.
"The university does a great job of educating students about the impact of the drought, and I have been impressed by student-led efforts to reduce their water usage and their efforts to educate other students," Associated Students of UC Merced President Domonique Jones said. "But it's time for us to think about how we can change our behaviors all year round, because conserving water is the new normal. We all need to find ways to reduce our usage all the time. I encourage all my fellow Bobcats to take this responsibility very seriously."
Here are just some of the strategies that have helped the campus save water and, as a byproduct, energy as well:
stopped watering the lawns in The Bowl, the Scholar's Lane grass strips, the Joseph Edward Gallo Recreation and Wellness Center, the retention basin at the pump house and the grassy area behind the California Room;
installed an evapotranspiration-based irrigation system that senses weather and moisture and waters only when appropriate — then reduced those watering times by 28 percent;
replaced sprinkler heads with more directed streams instead of wide sprays to reduce waste;
repaired sprinkler piping to mitigate leaks, reduce or eliminate runoff, and improve irrigation efficiency;
removed all annual plants and filled planers with moisture-retaining mulch;
fixed an issue with the Central Plant cooling towers that was causing a daily loss and reduced the number of times the plant's pipes are flushed;
replaced Housing's sink aerators with low-flow aerators; and
implemented a system using QR codes to report leaks in the Social Sciences and Management Building via smartphones.
In June alone, these actions led to a 30 percent reduction over usage in June 2013.
"UC Merced's drought response has been an impressive campuswide effort, involving innovative strategies by Facilities Management, the expertise of our faculty and the dedication of our students and staff," Vice Chancellor for Business and Administrative Services Michael Reese said. "Today's actions are setting the stage for the campus to remain on the cutting edge of water conservation as we embark on the 2020 Project."