The environment affects the way genetic populations move, and similar environments likely play a bigger role in how a species develops than does geographic distance.
Those are just two of the discoveries Professor Jason Sexton has made while studying the monkey flower, a California native that is practically in his back yard, now that he has joined UC Merced.
Monkey flowers, which come in a diverse array of populations of varying sizes, shapes and colors, grow wild in the Sierra Nevada, a place Sexton has studied even from his previous position in Australia. The chance to come to UC Merced, to work and live where the bulk of his research takes place, was too good to pass up, he said.
Sexton began at UC Merced in January, and is still in the process of setting up his lab, plus teaching a class this semester. But he's got years of data on the monkey flower.
There are at least 150 varieties of Mimulus worldwide, and roughly half of them can be found in California.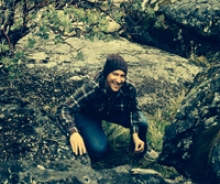 "It's a really diverse group of plants, and we're right here at the front door of its diversity," he said. "They are a bellweather for understanding plant diversity and changing climates."
One monkey flower Sexton's group studies in the Sierra grows between 3,000 and 10,000 feet elevations.  
Sexton and his students have made some significant genetic discoveries, including the fact that the populations that grow in the same elevation ranges – no matter how far apart they are in the mountains – are more genetically similar than they are to their same species that live at different elevations or in different environments.
"Environment is mostly what structures genetics across the species," Sexton said.
Also, populations at the limits of their growing ranges seem to do better under environmental stresses when they interbreed, he said.
"The gene flow can supply a rescue effect to struggling populations," he said.
Sexton said he is looking forward to getting out into the field every couple of weeks with students to see what else can be discovered about monkey flowers and other plants.
"I would like to have the students scouring the elevation ranges and measuring populations, and I also want to see how the Rim Fire affected populations," Sexton said.
As Sexton and his students sequence the genomes of monkey flowers, they will come to a better understanding of how plants are able to diversify and inhabit so many climates.
School of Natural Sciences Dean Juan Meza said he looks forward to seeing what Sexton's new lab can do.
"We are fortunate to be able to attract Professor Sexton to UC Merced," Meza said. "His research is critical to our understanding of how climate change may affect plant diversity with far-reaching implications to anybody working in agriculture."