There's a reason the UC Merced plasma lab is isolated behind a locking fence near the entrance to campus.
There's some serious heat being produced down there.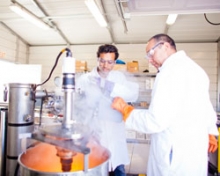 Engineering professors Gerardo Diaz, Wolfgang Rogge and Yihsu Chen and a group of students are spending their summer in the lab, generating plasma blasts of more than 3000 degrees Celsius as they work on turning biomass – organic leftovers such as coffee grounds, almond hulls and the leavings from wineries – into clean-burning energy.
The three-year project just received a $258,000 grant from the California Energy Commission and $50,000 in equipment from Foret Plasma Laboratories to examine how clean the gas produced through the process is, and whether it is cleaner than the current biomass-incineration process in use at plants around the state.
"There's a lot of biomass here in the form of agricultural waste, and it is left to rot, is burned in the fields or is burned for fuel, but not very efficiently or cleanly," Diaz said. "This might be a way to put it to use with very little emission."
The research project is just another example of UC Merced's research exploring innovative solutions to complex worldwide problems.  
Researchers turn liquid waste into steam that is forced into a plasma gasifier used to super-heat the biomass materials and leave behind almost nothing but hydrogen and carbon dioxide. The gasifier products can be configured to create liquid fuel or gas, and can even be used to turn biomass into a carbon product that can enhance agricultural soil.
Obviously, cleaner energy production would have a huge effect on the San Joaquin Valley, said Rogge, who is an expert in air quality and is studying the air pollution aspects of the biomass project. But the implications would be much farther reaching, he said.
For example, Rogge and Diaz would like to design a mobile version of the gasifier that could be used in national parks around the world to help manage potential fire fuels.
"All the trees that fall, and all the other biomass, it gets burned up and the smoke just goes up in the air," Rogge said. "Why not use it for something productive?"
Engineering Professor Gerardo Diaz works with the plasma gasifer in his lab.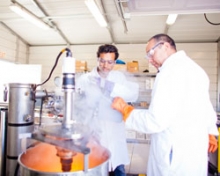 Professor Chen will work with the group to add the economic analysis of the biomass-to-energy process.
Four students are helping the professors: juniors Adam Martin and Jose Guadarrama, senior Azucena Robles and graduate student Neeraj Sharma.
"This is the hands-on, experimental part of my research, but we also study the theoretical, and it's interesting to see the connection between the two," Sharma said.
For Robles, Martin and Guadarrama, who all want to go to graduate school, this is an opportunity to play a vital role in real research that gives them an array of experience, and to make connections with the professors who could be supervising them in their intensive studies.
"I'm getting experience in something I could possibly work on for the rest of my life," Martin said.